PARA TRADUCCIÓN DE ESPAÑOLA CLIC AQUÍ
Notice of Computation and Canvassing of Election Returns / Aviso De Computacion Y Escrutinio De Devoluciones Electorales
Section 203
On December 5, 2016, Gwinnett County and all municipalities within Gwinnett County were designated as a covered jurisdiction under Section 203 of the Federal Voting Rights Act of 1965.  Section 203 of the Voting Rights Act of 1965 mandates that election officials and staff in covered jurisdictions must provide language assistance including "any registration or voting notices, forms, instructions, assistance, or other materials or information relating to the electoral process, including ballots," on an equal basis with all that is provided in English. The City of Sugar Hill is now working to comply with Section 203 by providing access to all information and resources for local elections in English as well as Spanish. If you should need any election information or assistance in Spanish, please contact the City Clerk.
El 5 de diciembre de 2016, el Condado de Gwinnett y todos los municipios dentro del condado de Gwinnett fueron designados como una jurisdicción cubierta bajo la Sección 203 de la Ley Federal de Derechos de Votación de 1965. La Sección 203 de la Ley de Derechos de Votación de 1965 ordena que los funcionarios electorales y el personal en las jurisdicciones cubiertas debe proporcionar asistencia de idioma incluyendo "cualquier aviso de registro o votación, formularios, instrucciones, asistencia u otros materiales o información relacionados con el proceso electoral, incluidas las boletas," en una base igual con todo lo que se proporciona en inglés. La Ciudad de Sugar Hill ahora está trabajando para cumplir con la Sección 203 al proporcionar acceso a toda la información y recursos para las elecciones locales tanto en inglés como en español. Si necesita información de elección o asistencia en español, por favor comuníquese con el Secretario de la Ciudad.
---
Voting Information:
The City of Sugar Hill's Municipal elections are held every two years in odd numbered years at the Sugar Hill Community Center. The Community Center is located at 1166 Church Street, behind the Town Green in Sugar Hill. Absentee and Advance voting will be held at Sugar Hill City Hall, located at 5039 West Broad Street.
About our Government:
The City of Sugar Hill government consists of a Mayor and five Council Members. The term of office is four years. The elections are staggered every two years.
The Sugar Hill election type is majority and the candidate needs 50% plus one vote to win. You must declare whose seat you are running for when you qualify as a candidate.
To Qualify for Candidacy:
To be eligible for office you must be 18 years old, a citizen of the United States, a registered voter in Gwinnett County, and a resident of the City of Sugar Hill, residing within the city limits for a period of a minimum of one year.
You must file a Notice of Candidacy and Affidavit at the City Clerk's office. The qualifying fee is $108.00 for Council Member and $162.00 for Mayor. If you are planning to run for office and accept campaign funds, please see the City Clerk as there are forms to fill out before campaign funds are accepted. There are also Campaign Disclosure reports to fill out. These reports are required by the Ethics in Government Act of the State of Georgia. The State Ethics Commission can be reached at 770-920-4385 or the website is http://ethics.ga.gov/.
Candidates elected to office in the November election take office in the month of January of the following year. They will be sworn in at the first Council meeting of the year.
Registering to Vote:
You may register to vote at City Hall, Gwinnett County Libraries, Georgia State Driver's License offices and most government facilities. The same form is also used to change your address or name.
Contact Information:
The Election Superintendent, Voter Registrar and Absentee Ballot Clerk is Jane Whittington, Sugar Hill City Clerk. You may contact the clerk Jane Whittington by email at jwhittington@cityofsugarhill.com, or by calling 770-945-6716.
See Democracy in Action, Become a Poll Worker:
You can become an integral part of assisting the citizens of Sugar Hill as well as providing a service to your community by becoming a poll worker. As a poll worker you would help fulfill the important process by which we Americans select our leaders and have a voice in government.
Poll Worker Qualifications:
You must be a U.S. Citizen, a resident of the county where you will be working, 16 years of age or over, able to read, write and speak the English language, and have no prior felony convictions for at least 10 years. A poll officer is not eligible to run for public office and cannot hold a public office, other than a political party office, while serving as a poll worker. A parent, spouse, child, brother, sister, father-in-law, mother-in-law, son-in-law, daughter-in-law, brother-in-law, or sister-in-law of a candidate cannot serve as a poll worker in any precinct where that candidate is listed on the ballot.
All poll workers will be compensated for their services.
All poll workers are required to attend training sessions. After successful completion, a certificate stating that you are qualified to work in an upcoming primary or election will be issued.
To become a poll worker, please call (770-945-6716) or email Sugar Hill's City Clerk, Jane Whittington for more information.
SPANISH:
Información sobre la votación:
La Ciudad de las elecciones municipales de Sugar Hill se llevan a cabo cada dos años en años impares en el Centro Hill Community azúcar. El centro de la comunidad se encuentra en 1166 Church Street, detrás de la Ciudad Verde en Sugar Hill. Ausente y la votación anticipada se llevará a cabo en el Sugar Hill City Hall, ubicado en 5039 West Broad Street.
Acerca de nuestro Gobierno:
La Ciudad de Sugar Hill Gobierno consiste en un alcalde y cinco miembros del Consejo. La duración del mandato es de cuatro años. Las elecciones están escalonadas cada dos años.
El tipo de elección Sugar Hill es mayoría y el candidato necesita el 50% más un voto para ganar. Debe declarar cuyo asiento está ejecutando para cuando se califica como candidato.
Para calificar para la candidatura:
Para ser elegible para el cargo debe tener 18 años de edad, ciudadano de los Estados Unidos, un votante registrado en el condado de Gwinnett, y un residente de la Ciudad de Sugar Hill, que residen dentro de los límites de la ciudad por un período de un mínimo de un año .
Debe presentar un Aviso de candidatura y declaración jurada en la oficina del Secretario de la Ciudad. La tasa de habilitación es de $ 108.00 para los miembros del Consejo y de $ 162.00 para el alcalde. Si usted está planeando postularse para un cargo y aceptar fondos de campaña, consulte la Secretaría de la Ciudad, ya que hay que llenar formularios antes de aceptar fondos de campaña. También hay informes de campaña de divulgación para llenar. Estos informes son requeridos por la Ley de Ética Gubernamental del Estado de Georgia. La Comisión de Ética del estado puede ser alcanzado en 770-920-4385 o en el sitio web es http://ethics.ga.gov/.
Los candidatos elegidos para el cargo en la toma de oficinas elecciones de noviembre en el mes de enero del año siguiente. Ellos serán juramentados en la primera reunión del Consejo del año.
Registrarse para votar:
Usted puede registrarse para votar en el Ayuntamiento, Bibliotecas del Condado de Gwinnett, oficinas de licencia de conductor del estado de Georgia y la mayoría de las instalaciones del gobierno. La misma forma también se utiliza para cambiar su dirección o nombre.
Información del contacto:
El Superintendente de Elecciones, Registro de Votantes y en ausencia Clerk Ballot es Jane Whittington, Sugar Hill City Clerk. Puede ponerse en contacto con el empleado por email Jane Whittington, o llamando al 770-945-6716.
Ver la Democracia en Acción, convertirse en un trabajador Encuesta:
Puede convertirse en una parte integral de la asistencia a los ciudadanos de la colina del azúcar, así como proporcionar un servicio a su comunidad por ser un trabajador electoral. Como un trabajador electoral que le ayudará a cumplir el importante proceso mediante el cual los estadounidenses seleccionar nuestros líderes y tener una voz en el gobierno.
Cualificación de los trabajadores de la encuesta:
Usted debe ser un ciudadano de los Estados Unidos, un residente del condado en el que va a trabajar, de 16 años de edad o más, capaz de leer, escribir y hablar el idioma Inglés, y no tienen condenas anteriores por delitos graves durante al menos 10 años. Un oficial de sondeo no es elegible para un cargo público y no puede ocupar un cargo público que no sea una oficina de partido político, mientras que actúa como un trabajador electoral. Un padre, cónyuge, hijo, hermano, hermana, padre-en-ley, la madre-en-ley, el hijo-en-ley, la hija-en-ley, el hermano-en-ley, o hermana-en-ley de un candidato no puede servir como un trabajador electoral en cualquier precinto en que el candidato aparece en la papeleta.
Todos los miembros de mesa serán compensados ​​por sus servicios.
Todos los miembros de mesa están obligados a asistir a las sesiones de entrenamiento. Después de completar con éxito, un certificado que indique que usted está calificado para trabajar en una próxima primaria o le emitirá elecciones.
Para convertirse en un trabajador de la encuesta, por favor llame al (770-945-6716) o por correo electrónico Secretario de la Ciudad de Sugar Hill, Jane Whittington para más información.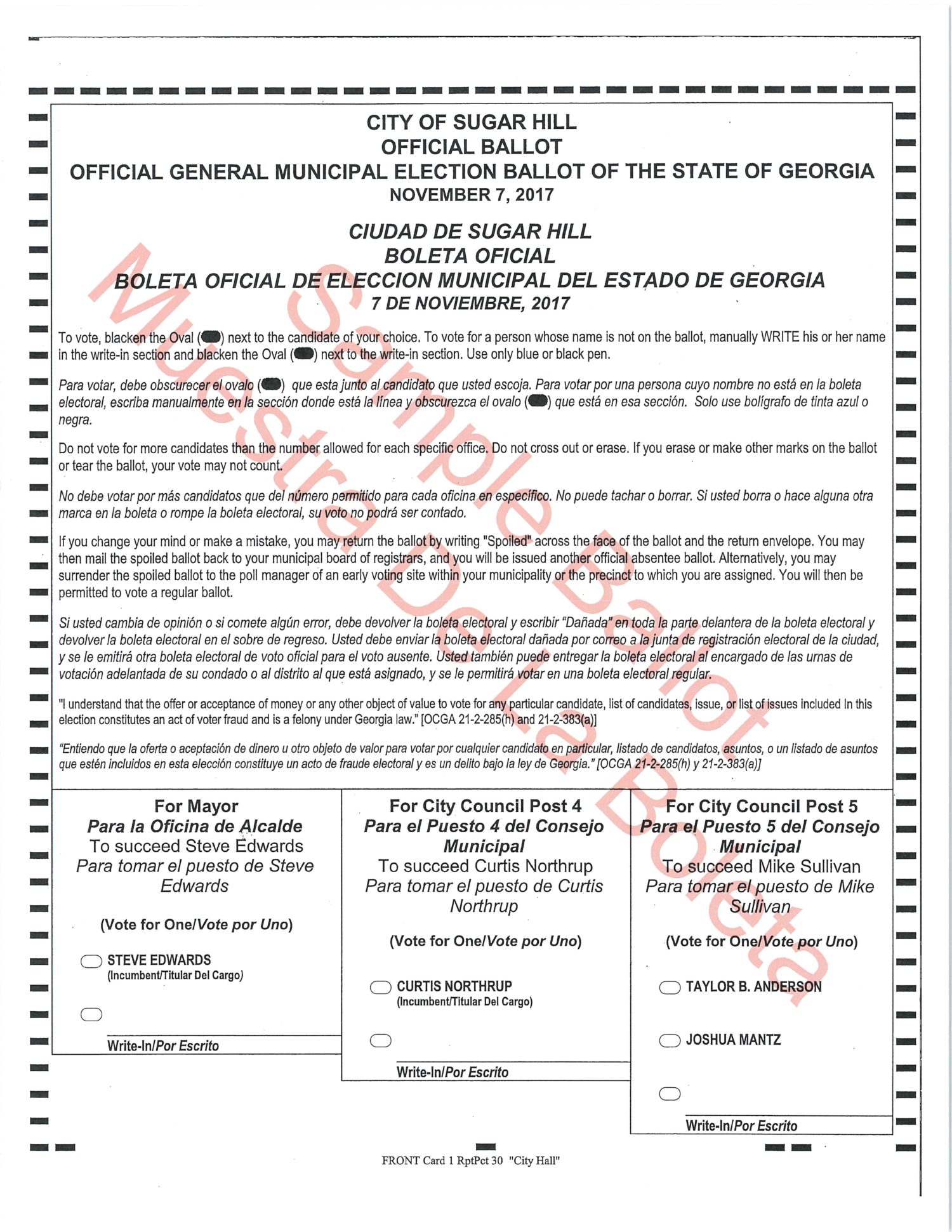 2017 SAMPLE BALLOT / MUESTRA DE LA BOLETA
Public Notices
Contact Information:
The Election Superintendent, Voter Registrar and Absentee Ballot Clerk is Jane Whittington, Sugar Hill City Clerk. You may contact the clerk Jane Whittington by email at jwhittington@cityofsugarhill.com, or by calling 770-945-6716.