Sugar Hill Historic Cemetery, which is located diagonally across from Sugar Hill City Hall, at the intersection of W. Broad Street and Church Street, has been part of the City's downtown area for over 135 years. The cemetery, established in 1886, contains over 1500 burials, continues to have interments, and offers grave spaces for purchase.  Please read community news to learn more about our sweet city's historic cemetery!
Sugar Hill Historic Cemetery Hours: Dawn to Dusk
Cemetery Rules:
1. Maintain a respectful attitude and volume.
2. Visitations allowed; any other activity must be authorized.
3. Respect the deceased, walk around the graves.
4. Plantings are prohibited.
5. Unmaintained items left at grave site will be removed.
6. All vehicles must be on established roads.
7. Keep all pets on a leash and pick up after them.
8. Place trash in receptacles at entrance gates.
9. The City of Sugar Hill is not responsible for acts of vandalism, accidents or theft.
Our Goals for Sugar Hill Historic Cemetery
Preserve and promote historical and cultural significance
Maintain the cemetery's dignity, beauty, and serenity
Promote community involvement via action and education
Remember and celebrate the lives of those buried here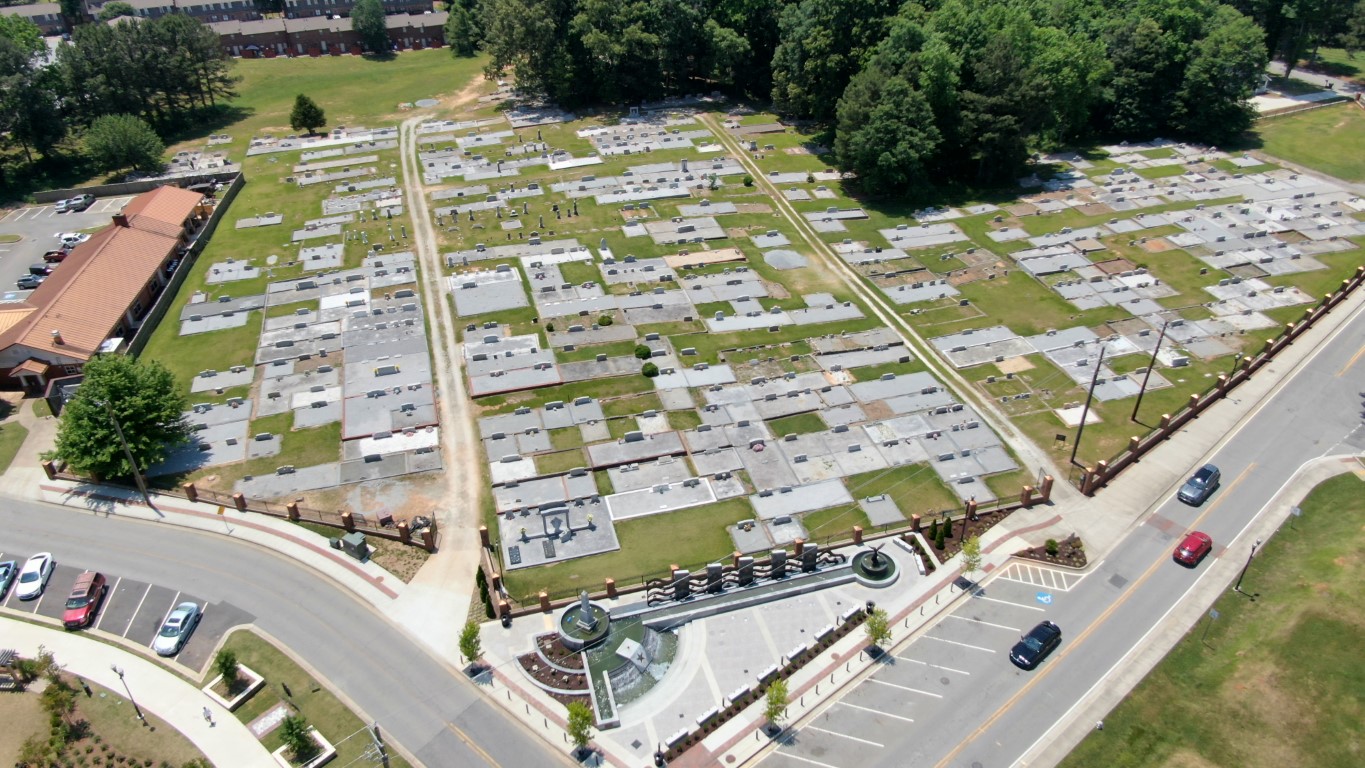 Cemetery space fees approved 11/14/2022 by City of Sugar Hill Mayor and Council:
- Space: $1250.00 each (Effective Dec. 1, 2022)
- Recording fee: $25.00 paid to Gwinnett County (if multiple purchases made at different times, $25.00 each transaction)
All spaces are 5' x 12' and casket burials must be in a vault. Cremation interments, up to two burials of cremains (in an urn), can be interred in a single space.
Contact Information
Stephanie Isaacs, Cemeterian
770-945-6716 x 1312; sisaacs@cityofsugarhill.com
Tim Schick, Facilities Director
770-945-6716x 1210
Community News and involvement
Cleaning stones, repairing monuments and beautification. Community cleanups are usually scheduled in May and November.
If your family has members buried in the cemetery, please contact the cemeterian. Family contacts information, stories and copies of deeds are being sought.
Can be scheduled upon request for limited groups on various themes. Please contact the cemeterian.
Flags are displayed in the cemetery for Memorial Day and Veterans Day. Wreaths Across America in December.
With the Sugar Hill Historic Preservation Society (SHHPS), Suwanee Creek Chapter of the DAR and Sugar Hill chapter of the American Legion.