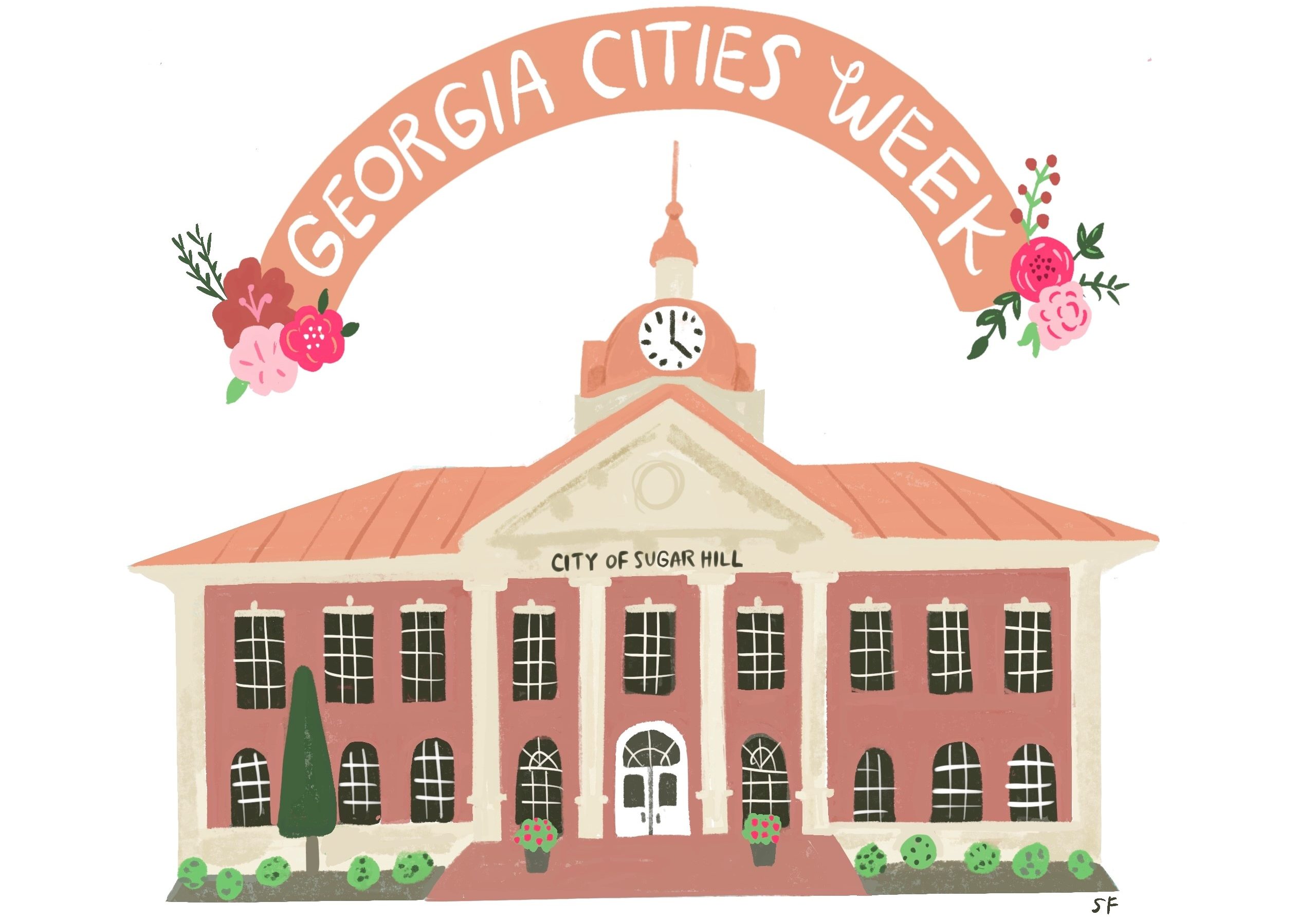 Join Sugar Hill October 3rd through 9th as we join other cities across our great state in celebrating "Georgia Cities Week!" This week has been set aside to recognize the many services city governments provide and their contribution to a better quality of life in Georgia.
So, what exactly are some of those services offered by the City of Sugar Hill?
Let's start with our Public Works Department that keeps Sugar Hill clean and beautiful. Its duties include clearing litter off city streets, cutting and maintaining grass on 67 acres of right-of-way, maintaining 69 miles of city streets, picking up grass clippings, chipping tree limbs and trimmings and hauling off yard debris.
The Planning and Development Department coordinates planning, zoning, construction activities, and implements all city codes and ordinances. If you're interested in adding onto your house; obtaining/renewing your OTC business license; rezoning property; subdividing land; constructing a new building; or another project, this department is who you'll contact.
City of Sugar Hill residents and businesses in our service area can count on clean, safe, economical, and reliable natural gas. Our highly trained staff works around the clock to ensure the integrity and dependability of our distribution system, and to assist customers with energy conservation and cost savings through natural gas use. To ensure safety, we ask residents to call 811 a few days before you dig using any mechanized machinery on your property. Whether you're planning to do it yourself or hire a professional, smart digging means calling 811 before each job.
At Sugar Hill, we take safety seriously. So, our newly formed Public Safety Department has contracted Insight Protection Services to provide extra patrols around the city. The city has hired Diane King, a 20-year Gwinnett County law enforcement veteran, to serve as the city's first-ever City Marshal and Director of the new department.
Because exercise and being outdoors increases quality of life, Sugar Hill's Parks & Recreation Department boasts several venues and greenspaces including the gym at the E Center with a weight room, exercise equipment, courts, and indoor track – all free to City of Sugar Hill residents and gas customers. Tucked behind City Hall is another family favorite, The Splash Park. If being outside with grass, birds and trees is your thing, the city has a Community Garden at Gary Pirkle Park, the Sugar Hill Golf Club and a 16.5-mile Greenway in development that will wrap around Sugar Hill connecting its neighborhoods to downtown.
Like other successful cities, Sugar Hill has put itself on the map as a great place to live, work, and play. That's where our Community & Economic Development Department comes in! With exciting restaurants, shops and businesses located downtown in the E Center, there's something for everyone. Our events team brings in big name and upcoming musicians for shows at The Bowl as well as major performing arts productions and movies at the dazzling Eagle Theatre. The City helps entrepreneurs and small businesses grow and flourish with its business incubator space, the Suite Spot and provides support to local businesses through the Downtown Development Authority.
With its newly evolved downtown, there's no doubt that the "hill where the sugar spilled" continues its progress towards making Sugar Hill a captivating, safe, and healthy place to be. At the City of Sugar Hill, we value the legacy of our past. Come visit an exhibit at the Sugar Hill History Museum, pay tribute at the Veteran's Memorial and honor past residents at the Sugar Hill Historic Cemetery.
Finally, like other cities, you can get a business license, passport or pay your property tax bill. Did we mention, there's also a post office inside city hall?
For more information on how local government functions at our "sweet city," visit cityofsugarhill.com. We also invite you to stop by city hall to pick-up your free "Guide to Sugar Hill" and enter our "Georgia Cities Week" raffle.