Help the Environment by Recycling
Recycling is a series of activities that includes collecting recyclable materials that would otherwise be considered waste, sorting and processing recyclables into raw materials such as fibers, and manufacturing raw materials into new products.
Recycling can be a fun family activity. It not only conserves our landfill space but it also teaches our children to respect and preserve their environment.
Sugar Hill Sanitation & Recycling
Effective November 1, 2009, the City of Sugar Hill in partnership with Advanced Disposal is expanding our curbside recycling services to include 32 recyclable items.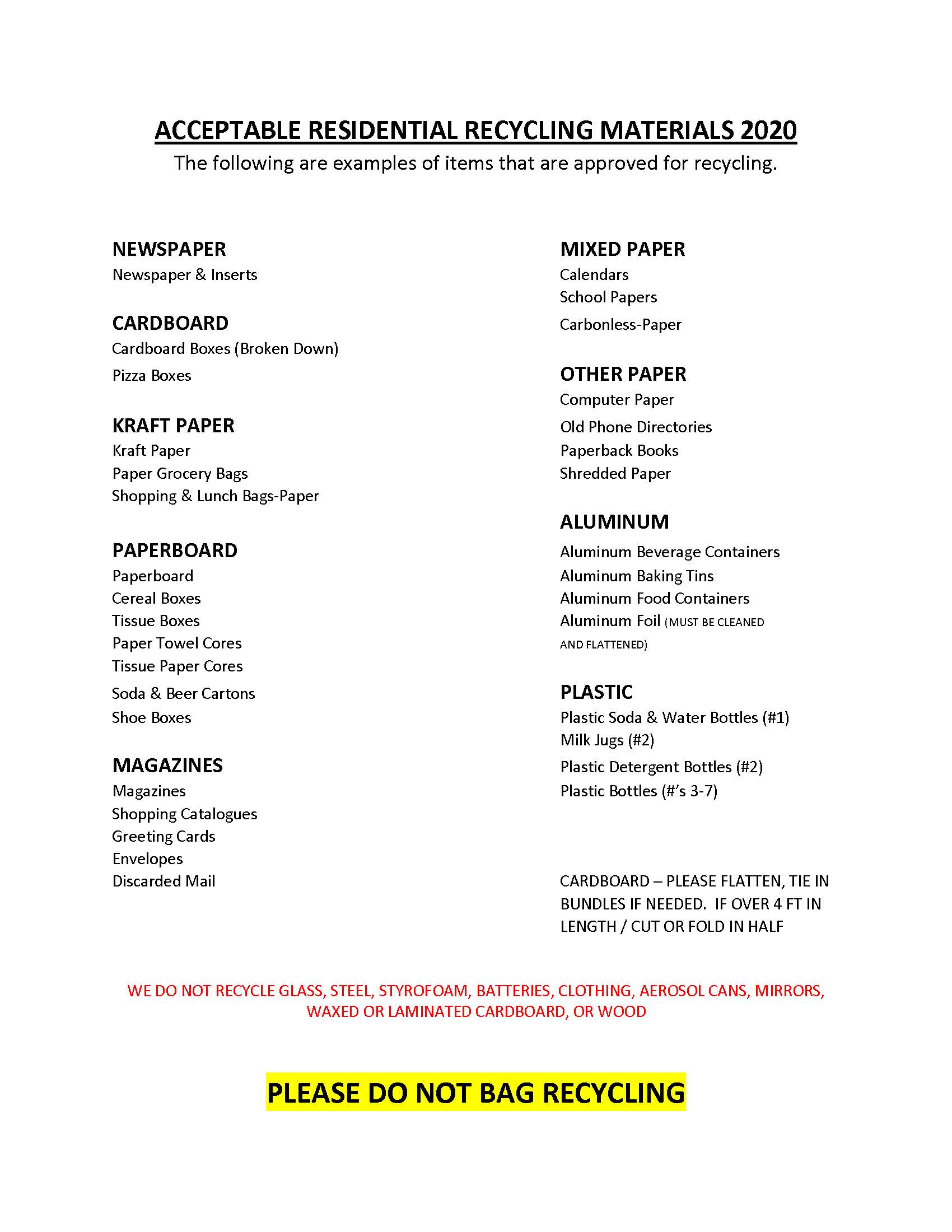 Place the above items in your recycling bin to be picked up at the curb every week on the same day as your garbage collection by Advanced Disposal.
Keep Out of Recycling Bins:
(Items below will be left in the recycle bins for proper disposal)
Glass Bottles and Jars (Green, Brown, Clear)

Aerosol Cans
Aluminum Foil
Antifreeze Bottles
Bleach Bottles
Food Boxes
Flower Pots
Facial Tissue
Food Paper Wrap
Motor Oil Cans
Paint Cans
Paper Towels
Plastic Wrap
Styrofoam
Window Panes
Tissue Paper
PLEASE DO NOT PUT GLASS IN YOUR RECYCLING BIN!
We are no longer able to accept glass in the curbside recycling program due to changes in market demand for cullet and cost associated with processing. We appreciate the community's understanding of this industry-wide change and urge continued participation in minimizing the waste stream to the greatest extent practical.
Please be aware, if any glass is found in your recycling container, Advanced Disposal will not pick-up any recycling items within the container.
Where to Recycle Glass Bottles and Jars
Please visit the Gwinnett Clean & Beautiful website for a list of recycling centers that will still accept glass: http://www.gwinnettcb.org/recycling-center-material/glass-bottles-and-jars/
Very Important:
All garbage and recycling containers must not be placed at the curb or roadside any earlier than the evening before the scheduled collection and they must be removed from the curb or roadside no later than the day after collection has occurred.
Contact Information
Phone: (770) 887-6063
www.wm.com
Public Works
Public Works Department
1498 Hillcrest Drive
Sugar Hill, GA 30518

Office Hours:
Mon - Fri
, 7:00 am to 4:00 pm

Phone:
(770) 271-2137
Related Links