Stormwater Management Program
Management of stormwater runoff has become an increasingly important responsibility for local governments. Recently enacted Federal and State stormwater regulations, combined with aging drainage infrastructure, has resulted in local governments like Sugar Hill developing and implementing more comprehensive stormwater management programs to achieve regulatory compliance and address recurring drainage system problems. Stormwater Frequently Asked Questions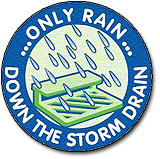 Over time, stormwater structures such as pipes and catch basins can become clogged and/or damaged, lessening their ability to carry stormwater runoff. If these stormwater structures are not maintained, then when it rains in Sugar Hill pipes can overflow into streets and inundate existing drainage system components. To solve these problems and comply with stormwater regulations, the City of Sugar Hill is developing a comprehensive stormwater management program, and setting up a stormwater utility that will be funded primarily by a stormwater user fee system.
Stormwater Regulations
New laws have been established by the State and Federal government to regulate stormwater runoff and water quality. The Georgia Environmental Protection Division (EPD) regulates the discharge of pollutants in stormwater through National Pollutant Discharge Elimination System (NPDES) stormwater discharge permits and the requirements of the Metropolitan North Georgia Water Planning District (the District).
The City of Sugar Hill must comply with its NPDES stormwater permit and the requirements of the District, which require that certain activities be implemented. These unfunded requirements involve the City undertaking specific compliance activities to reduce the discharge of stormwater pollution to local streams, creeks and lakes.
2013 FEMA FLOOD RISK MAPS ARE NOW IN EFFECT
Effective March 4, 2013, the Federal Emergency Management Agency (FEMA) has released the new flood plain maps for the Upper Chattahoochee River Basin; this includes the City of Sugar Hill. You can visit FEMA's website to view the actual FIRM panels at: https://msc.fema.gov . Additionally, the Planning and Development Department has a paper copy of the current Flood Insurance Rate Maps (FIRM) and they are available for your viewing.
As a quick way to find out if your property is being impacted by the new flood plain, you can use the following interactive website to zoom-in to your actual address –http://map.georgiadfirm.com. Should your property be within a designated flood area, you may wish to share this information with your insurance and mortgage lender.
Related Service Links
WHEN IT RAINS, IT POLLUTES

Stormwater pollution occurs when rainwater runs off of surfaces, such as rooftops and streets, picking up trash and pollutants. This runoff washes down the drain and is carried untreated directly to our nearby streams.
Learn how you can help protect our water