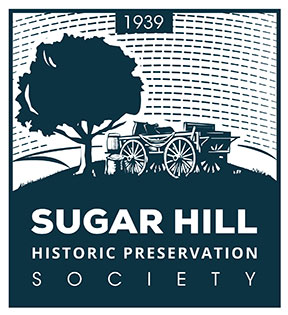 Meetings & Activities:
The Sugar Hill Historic Preservation Society meets on the 3rd Wednesday of each month at 7 pm. All meetings will be held in the History Museum Room at Sugar Hill City Hall, located at 5039 West Broad Street, Sugar Hill, GA.
Sugar Hill Historic Preservation Society Agendas and Minutes
Congratulations to the new Board officers and members of the "Sugar Hill Historic Preservation Society"
- Chris Walker, Chairman
- Karen Harrison, Vice-Chairman
- Brandon Hembree, Member
- Joann Burel, Treasurer
- Erin Stachiowiak, Member
For information about the Sugar Hill Historic Preservation Society, please email Chris Walker at cnwalkerdesigns@yahoo.com.
Meet our Members:
Karen Harrison
Karen Harrison lives in Sugar Hill and was born and raised in Georgia. She grew up in what is now Sandy Springs. Karen went to college at Florida State University (FSU), but quickly moved back to Georgia. She met her husband, who had been a resident of Sugar Hill for over 10 years. Karen has grown to love Sugar Hill, and has always been interested in the history of any city she lives in.  At FSU, she rented an old apartment and contacted a Tallahassee historian to find out its history. Her and her husband, Ralph have two children; ages 6 and 4. Karen is an account manager at e4 design in Norcross, and is also a photographer in her free time. She is excited about finding out the history of Sugar Hill!
Chris Walker
Chris Walker lives in Sugar Hill. Originally from Savannah, Chris moved to Sugar Hill in 2004. After graduating with a Bachelors of Fine Arts in Illustration from Ringling School of Art and Design, he moved to North Georgia to work for the furniture company Habersham Plantation. From the position of production artist, Chris rose to the rank of Master Artist. Since 2003 Chris has owned and operated C.N. Walker Designs, a company that specializes in murals, special finishes, and commissioned paintings. Savannah's rich history left an indelible impression on Chris. He is eager to learn more about the history of Sugar Hill.
Joann Burel
Joann Burel was born in Sugar Hill in a house on Level Creek Road. Her parents were Ethel (Brogdon) and Worley Shelley, and she was the youngest grandchild of William and Elizabeth (Gibboney) Shelley.  Joann has lived has lived in Sugar Hill her entire life, except for two years in Brookhaven.  She started first grade at Sugar Hill and graduated from Sugar Hill High School. Joann lived on Georgia Highway 20 when it was a dirt road and had to walk to school in mud when it rained. She has been married 57 years to her husband, Ken. They have two daughters, Kenya and Karla, who also attended Sugar Hill Elementary and North Gwinnett High School, six grandchildren and one great grandchild. Joann retired from Eastman Kodak Company after 35 years, is a member of Sugar Hill United Methodist Church. She is excited to see all of the things happening in Sugar Hill and happy to be a part of the Sugar Hill Historic Preservation Society.