Notice of Computation and Canvassing of Election Returns / Aviso De Computacion Y Escrutinio De Devoluciones Electorales
Section 203 / Seccion 203
On December 5, 2016, Gwinnett County and all municipalities within Gwinnett County were designated as a covered jurisdiction under Section 203 of the Federal Voting Rights Act of 1965.  Section 203 of the Voting Rights Act of 1965 mandates that election officials and staff in covered jurisdictions must provide language assistance including "any registration or voting notices, forms, instructions, assistance, or other materials or information relating to the electoral process, including ballots," on an equal basis with all that is provided in English. The City of Sugar Hill is now working to comply with Section 203 by providing access to all information and resources for local elections in English as well as Spanish. If you should need any election information or assistance in Spanish, please contact the City Clerk.
El 5 de diciembre de 2016, el Condado de Gwinnett y todos los municipios dentro del condado de Gwinnett fueron designados como una jurisdicción cubierta bajo la Sección 203 de la Ley Federal de Derechos de Votación de 1965. La Sección 203 de la Ley de Derechos de Votación de 1965 ordena que los funcionarios electorales y el personal en las jurisdicciones cubiertas debe proporcionar asistencia de idioma incluyendo "cualquier aviso de registro o votación, formularios, instrucciones, asistencia u otros materiales o información relacionados con el proceso electoral, incluidas las boletas," en una base igual con todo lo que se proporciona en inglés. La Ciudad de Sugar Hill ahora está trabajando para cumplir con la Sección 203 al proporcionar acceso a toda la información y recursos para las elecciones locales tanto en inglés como en español. Si necesita información de elección o asistencia en español, por favor comuníquese con el Secretario de la Ciudad.
---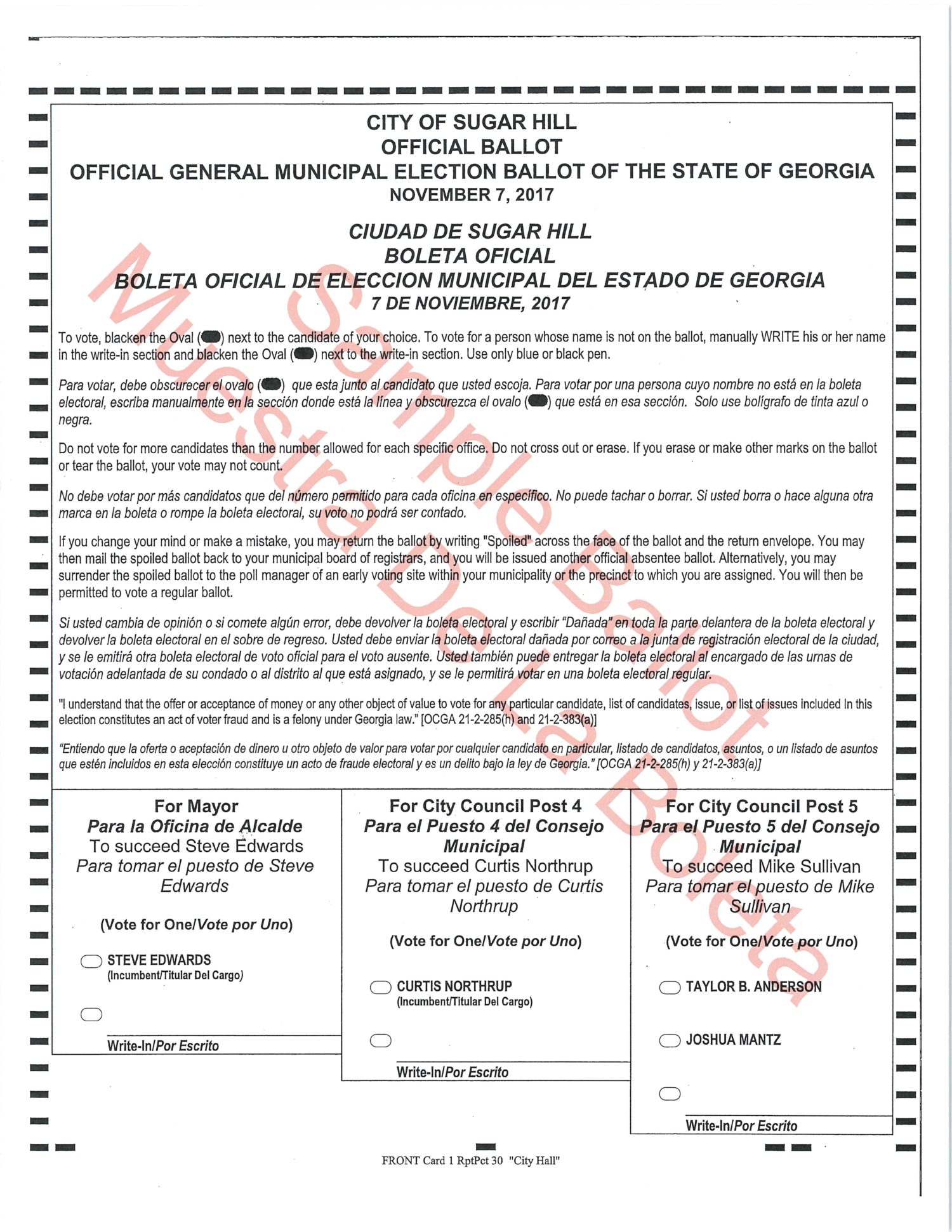 2017 SAMPLE BALLOT / MUESTRA DE LA BOLETA
Public Notices / Noticia Publica
Notice of Computation and Canvassing of Election Returns
Noticia Publica Aviso De Computacion y Escrutino De Devoluciones Electorales
Public Notice: Logic & Accuracy Testings of Election Tabulation System
Noticia Publica: Testaciones De Logica y Precision Del Sistema De Tabulacion Electoral
Candidates for 2017 Municipal Election
Candidatos Para La Eleccion Municipal De 2017
Contact Information:
The Election Superintendent is Jane Whittington, Sugar Hill City Clerk. You may contact the clerk Jane Whittington by email at jwhittington@cityofsugarhill.com, or by calling 770-945-6716.
Información del contacto:
El Superintendente de Elecciones es Jane Whittington, Sugar Hill City Clerk. Puede ponerse en contacto con el empleado por email Jane Whittington, jwhittington@cityofsugarhill.com o llamando al 770-945-6716.