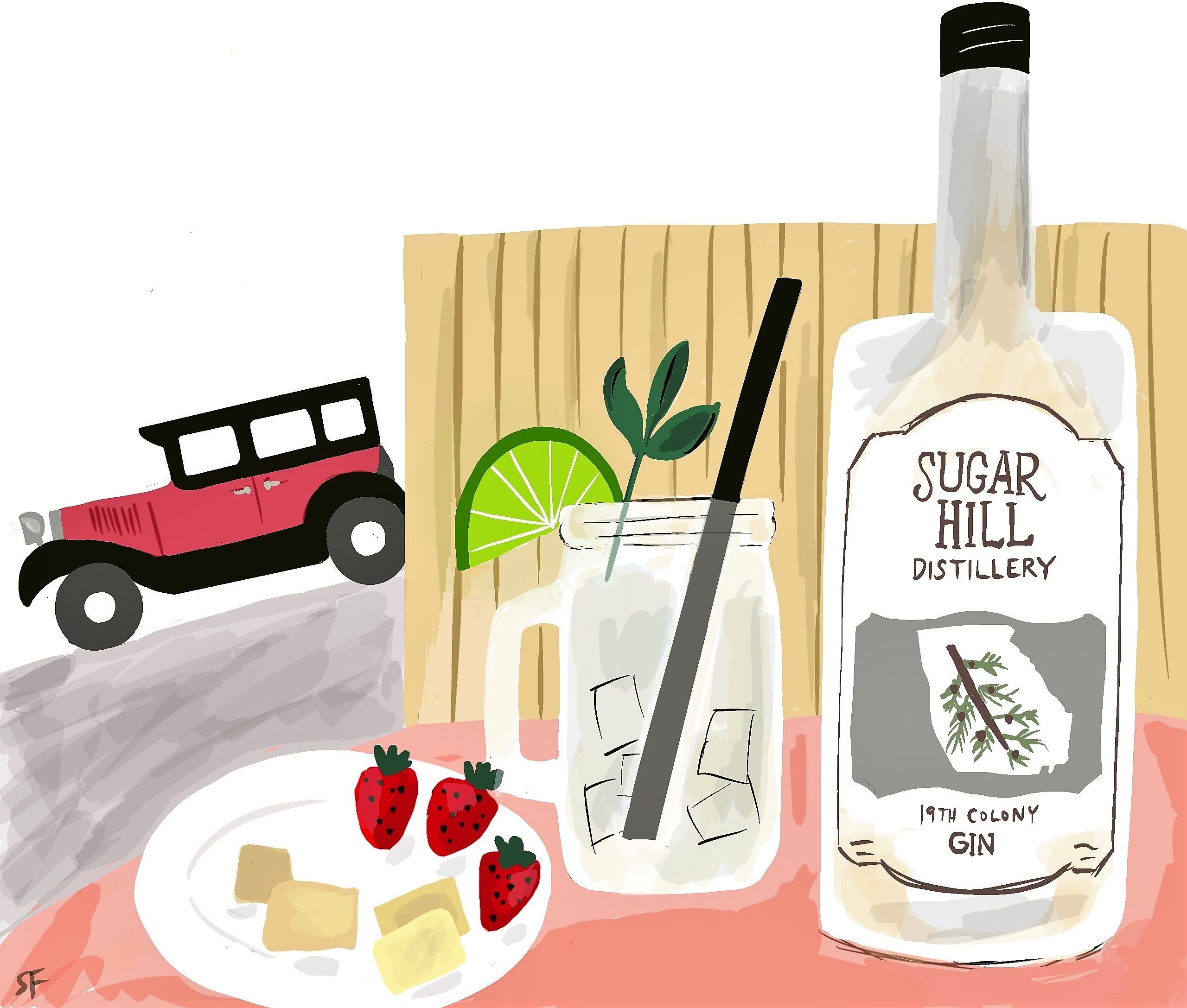 At first glance, the new Sugar Hill Distillery seems like a "wunderbar," (German for wonderful), place to kick back with a craft brew and friends. But take a closer look and you'll see three distinct brands within one very ambitious operation: The Sugar Hill Distillery, Apparition Brewing and Wunderbar Bierhaus.
Established in 2016, Sugar Hill Distillery was selling honey from their honey bee farm during the city's tent events. Fast forward to 2021 and they're now a full-service Euro bistro serving homemade whiskey and other fine spirits including a gluten free alcohol, Euro German fare, and craft beer all under the same roof. If that sounds like a tall order, it is! The Distillery is the first in the nation to be dual permitted as a Distillery and Brewery sharing the same bonded space and equipment for both processes.
From the Sugar Hill Distillery's handmade wooden tables and barrel-inspired bar to its divine desserts and herbs that grow along the fence of its outdoor Biergarten (beer garden), there is so much to take notice of and appreciate here.
That's because owners, Jay and Keri Liebrock have poured their collective skills and passions into every detail of Sugar Hill Distillery. Jay, or "JD" to most, is the brew master and distiller. As a retired Director of Intelligence in the U.S. Army with an entrepreneurial spirit, he wanted to create a legacy for his family's children and grandchildren. His wife and partner Keri, brings years of restaurant industry experience to the Wunderbar Bierhaus & Euro Bistro. They are proud to have the talented Executive Chef Morgan Pollard bringing Keri's restaurant menu to a delicious reality.
"There are lots of special details that have gone into Sugar Hill Distillery," says Bar Manager Anne Marie Dozier. The siding on the handcrafted bar emulates a barrel. Elegant labels adorn bottles of spirits made on premises. Even their modern pendant lighting was custom made. Visitors of Sugar Hill Distillery are invited to take a seat at a long table for family style dining. "In Germany, it's customary for everyone to come together and knock on the table as they sit down and join the group," explains Dozier. "You never know. You might make a new friend."
A large viewing window inside the dining room gives customers a peek of onsite distilling and brewing operations. Outside is a lovely covered Biergarten with live music on Friday and Saturday nights. It's also hard to leave Sugar Hill Distillery empty-handed. Their fully stocked gift shop offers spirits to go, t-shirts, wooden carved keychains, candy, homemade honey and much more.
Housed in the original City of Sugar Hill community center and part of downtown Sugar Hill's SHINE district, you can purchase a drink in a non-glass SHINE marked cup and take it to go within the SHINE district boundaries.
To experience this new downtown hotspot, visit the Sugar Hill Distillery at 1166 Church Street for lunch daily and brunch on the weekends. They're also open for dinner Monday through Thursday 10 am to 10 pm, Friday 11 am to 11 pm, Saturday 10 am to 11 pm and Sunday 9 am to 10 pm. Look for the vintage car parked in their lot!
The Biergarten is available for booking of your next special event! Need more info? Email keri@sugarhillstills.com
Prost! (Cheers!)