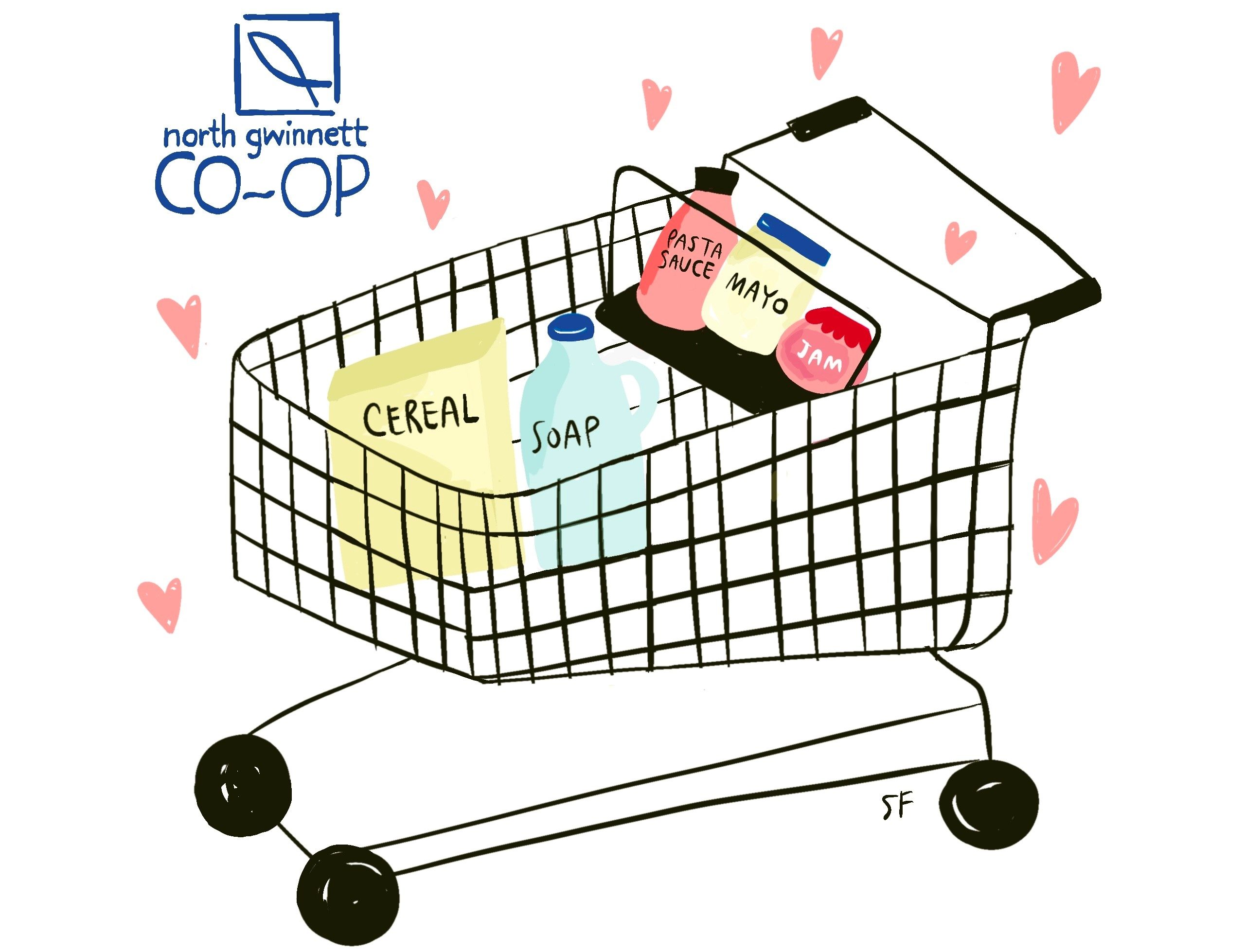 There are co-ops. And then, there is the North Gwinnett Co-Op. More than a food pantry, the local private nonprofit serving Buford, Sugar Hill and Suwanee also pays utility bills, runs a thrift shop, offers tutoring and tends to seniors in need.
A step inside their operation will leave you awe-inspired by all they have to offer. The Co-Op recently more than doubled their space from 6,000 to 14,000 square feet. With three separate bells for different doors – food delivery, thrift shop delivery and customer pickup – everything here is well thought out for the utmost efficiency. Donated clothes and décor are curated carefully before being placed on the sales floor of "Second Blessings. The thrift shop is merchandised so beautifully by seven-year volunteer and newly appointed employee, Vernet Farmer you might feel like you're shopping at a brand name discount store. (But you're not and the prices are even better, too.)
Always looking for ways to streamline operations, a perpendicular aisle was recently added between long rows of shelving. Thanks to eight football players from Lanier High School who lifted and moved the tall and heavy metal structures, it's now much easier for the food bank's volunteers to shop in the warehouse for their client's Ragu Pasta Sauce and Honey Nut Cheerios.
It's just one example of the many organizations, groups, and individuals whose caring contributions make the North Gwinnett Co-Op a very special brand of its own.
Thanks to a partnership with three local Publix Super Markets, freshly baked bread and pastries as well as peanut butter and jelly are distributed daily. Then, there's Macy's. They dropped off 1,700 formal gowns and Easter dresses to be sold in "Second Blessings" at the co-op. Proceeds from their sale at $30 each will go to pay utility bills for folks in need.
Those generous corporate gifts aside, many of the donations made to the North Gwinnett Co-Op don't come from large grocery or department store chains at all. Rather, it's individuals and groups that hold themed food drives such as "Taco'bout" and "Pajama Party" to collect taco kits and boxed cereals respectively. The food pantry has found great success in encouraging local businesses, schools, churches, and community organizations to take pride in making a difference in the lives of those who are hungry.
With seven full-time staff members and 120 volunteers working in shifts of about 20-30 at a time, the North Gwinnett Co-Op is a well-oiled machine that serves those in need with dignity. If you'd like to donate food, clothes, or home décor, click here to learn their current needs.
The North Gwinnett Cooperative is located at 4395 Commerce Drive in Buford. Donations are accepted Monday from noon to 8 pm and Wednesday through Saturday from 10 am to 4 pm. The Second Blessings Thrift Store is open from 4 to 8 pm and Wednesday through Friday from 10 am to 2 pm.