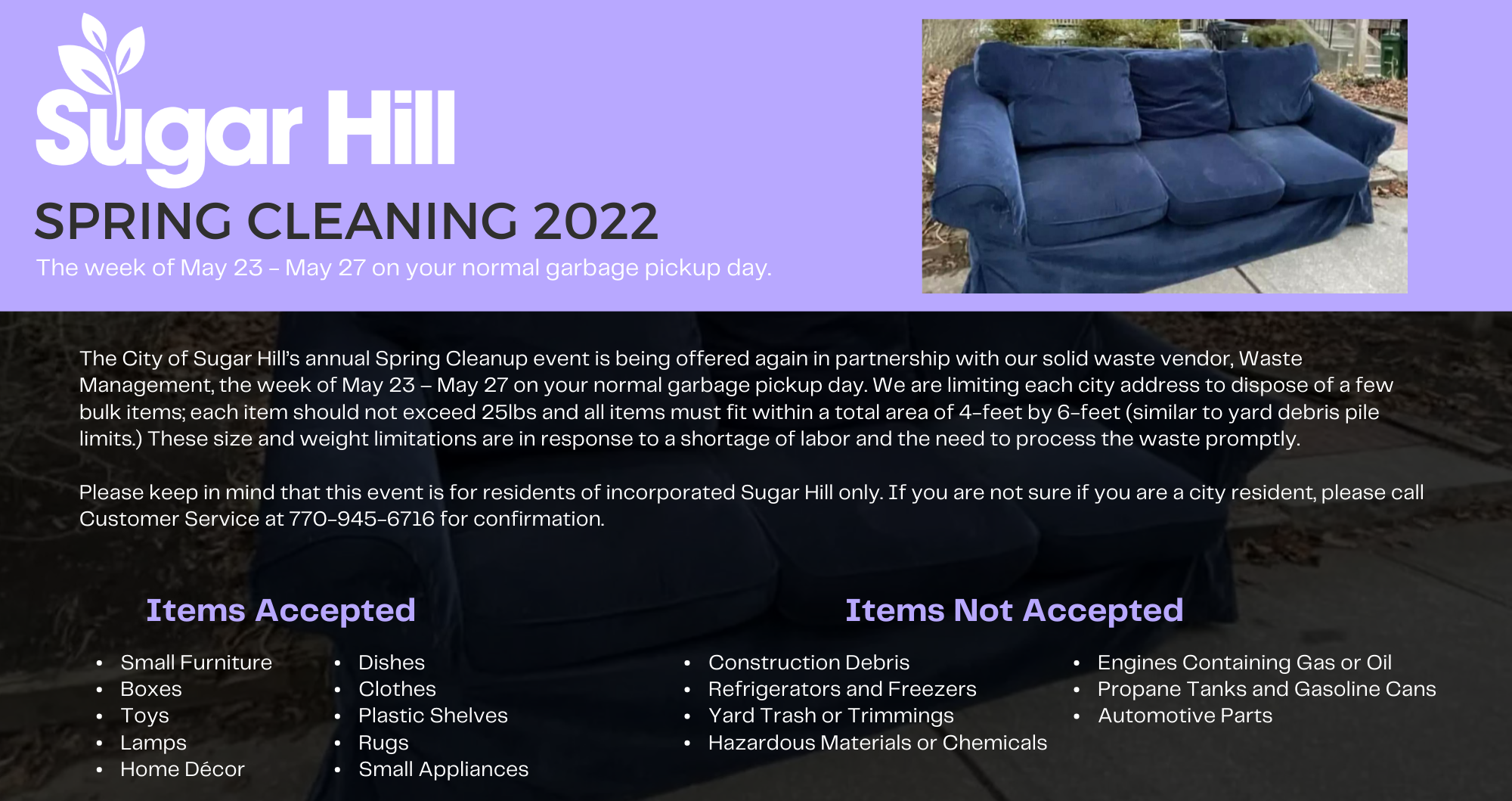 Spring Cleaning Update:
The Waste Management bulk truck that retrieves Spring Cleaning Week items experienced mechanical issues yesterday which has delayed pickup.
Waste Management bulk pickup services have resumed and those who were delayed should be serviced by the end of the day tomorrow, Friday, May 27.
Delayed areas include Grand Loop in Wild Timber, Arbor Clos and other surrounding areas.
The City of Sugar Hill's annual Spring Cleanup event is being offered again in partnership with our solid waste vendor, Waste Management, the week of May 23 – May 27 on your normal garbage pickup day. We are limiting each city address to dispose of a few bulk items; each item should not exceed 25lbs and all items must fit within a total area of 4-feet by 6-feet (similar to yard debris pile limits.) These size and weight limitations are in response to a shortage of labor and the need to process the waste promptly. If you are not sure if you are a city resident, please call Customer Service at 770-945-6716 for confirmation.
Items Accepted:
• Small Furniture
• Boxes
• Toys
• Lamps
• Home Décor
• Dishes
• Clothes
• Plastic Shelves
• Rugs
• Small Appliances
Items Not Accepted:
• Construction Debris
• Refrigerators and Freezers
• Yard Trash or Trimmings
• Hazardous Materials or Chemicals
• Engines Containing Gas or Oil
• Propane Tanks and Gasoline Cans
• Automotive Parts