For Immediate Release
Contact: Victoria Richburg
(770) 945-6716
Sugar Hill to Host its Seventh Annual Sugar Rush Arts Festival
Sugar Hill, GA, Oct. 12, 2021 – This week, for the first time ever, visitors will celebrate art for two full days on Oct. 16 and 17. As a weekend-long event with live music, local vendors, food trucks, and artisan demonstrations this year's Sugar Rush promises to be bigger, better, and more artfully festive.
Saturday, October 16: 10 a.m. – 6 p.m.
Sunday, October 17: noon – 6 p.m.
Sugar Hill will welcome visitors for a free concert, Sugar Hill Live On Stage: David Nail at The Bowl on Oct. 16 following the day's events. Doors will open at 6 p.m. with opening act and country singer/songwriter, Karissa Ella performing at 7 p.m. and David Nail at 8 p.m. Seating in the wing-area of The Bowl will not require tickets. Limited tickets are available for purchase for the center section, click here to buy tickets.
Festival goers can watch talented, young, local artists live paint for the duration of the festival. On Saturday, artists from North Gwinnett High School taught by Karen S. Campbell will paint. On Sunday, artists from Lanier High School taught by Kristina Jaunais and Tiffany Cole will paint. Three artists from Spelman College will paint throughout the two-day festival as well. Finished pieces will be on display at the Sugar Hill Art Gallery on Nov. 15 – Jan. 3.
"One of the key components that makes Sugar Hill such a special place is how much the arts are cherished", says Councilmember Marc Cohen. "The art community is forever growing. The city recently celebrated the Art Gallery's one-year anniversary and now a two-day Sugar Rush Arts Festival proves that growth."
In addition to DIY crafts for all to bring home, Sugar Rush will have a juried art show representing local, regional, and international talent. 50 artists will have their mixed media artwork on display at Sugar Hill's Art Gallery during festival hours on Saturday and Sunday. This year's juror is Vicky McCrary, who owns Artceptions Gallery in Tannery Row and founded the North Gwinnett Arts Association. Winners will be announced on Fri., Oct. 15.
ALL STARS Performing Arts dancers will perform several times during Sugar Rush. On Saturday, join dancers for an interactive dance where the ALL STARS will teach and perform dances to "Thriller" and "Monster Medley."
"If you want to really feel what our community is made of Sugar Rush is where you want to be", says Mayor Steve Edwards. "We'll have live music, live paintings, and live performances all day for two days, showcasing the best local talent in Sugar Hill and Gwinnett County."
The festival's music features performances by Nick and The Knacks, Broad Street Band Concert Band, Ariel Jones, Once A Rebel, Kitty Hawk, Raising Lake, Crews&Co., Amanda Hale, Brodie Mullin, David Heyton, NGMS Guitar Ensemble, Paige Clemons, and Backroad to Brooklyn. Visitors will have a chance to perform karaoke-style with DJerock on Sunday from 1 – 3:30 p.m.
Inflatables will be spread throughout the festival on both days located at the City Hall upper deck parking lot, Cornerstone Park, and on Temple Dr.
Public parking can be found on Hillcrest St., Sugar Hill Church, and the E Center Parking garage. Road closures will be placed on W. Broad St., Church St., and Temple Dr.
For more information on the day of the festival visit information booths located at the E Center, Eagle Theatre and The Bowl merchandise area.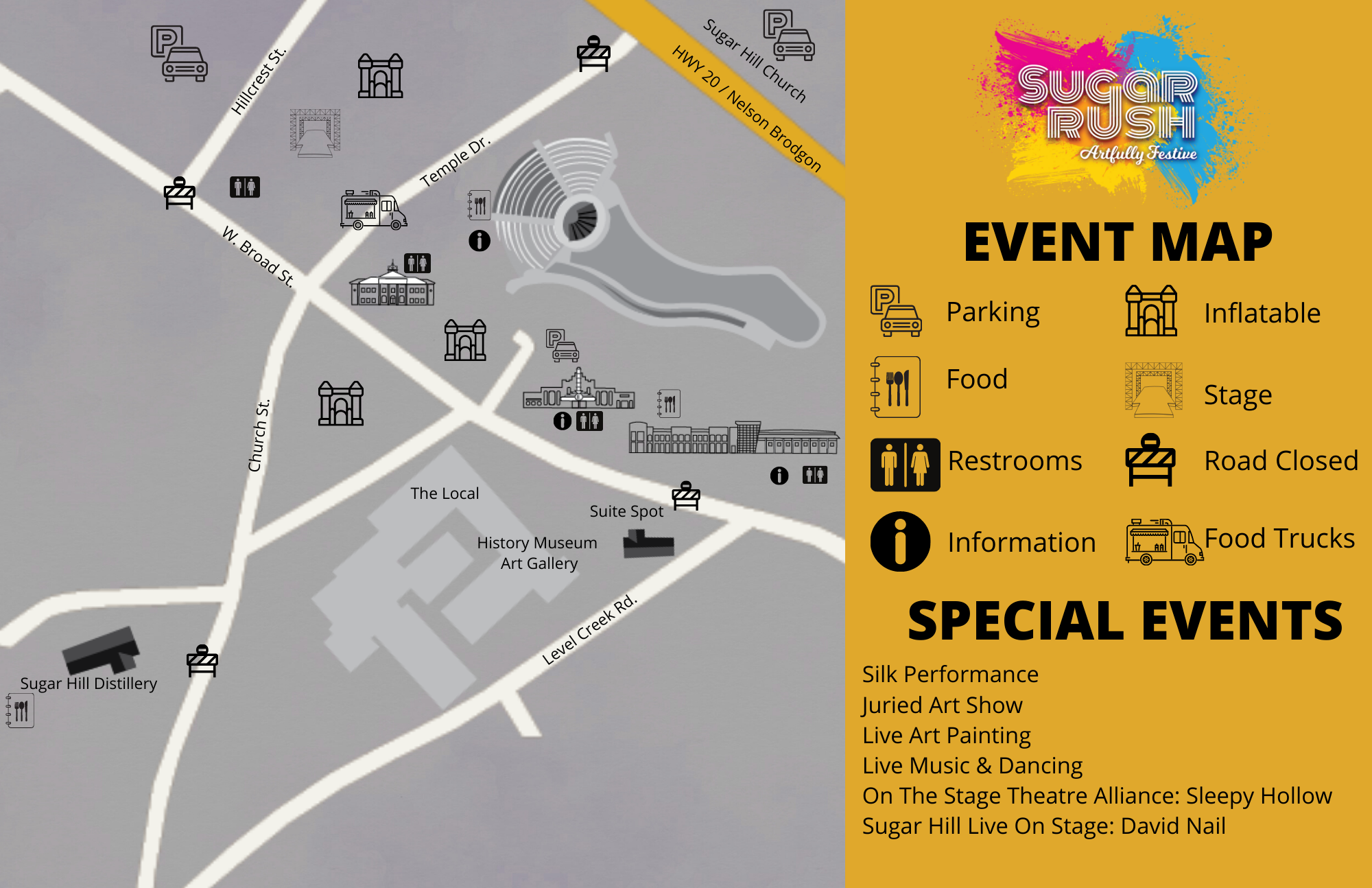 About Sugar Hill
Incorporated in 1939, the City of Sugar Hill is a northern suburb of metro Atlanta and the third largest city in Gwinnett County. What began as "the hill where the sugar spilled" is a thriving live/work/play city where residents and visitors enjoy "the sweet life."
Its downtown entertainment district is home to outdoor amphitheater The Bowl, the Eagle Theatre, restaurants, boutiques, luxury apartment homes, the Sugar Hill Art Gallery and History Museum, City Hall and Veterans Memorial. To learn more about Sugar Hill, visit cityofsugarhill.com.
For more information, please contact Victoria Richburg, Communications Coordinator at vrichburg@cityofsugarhill.com
###