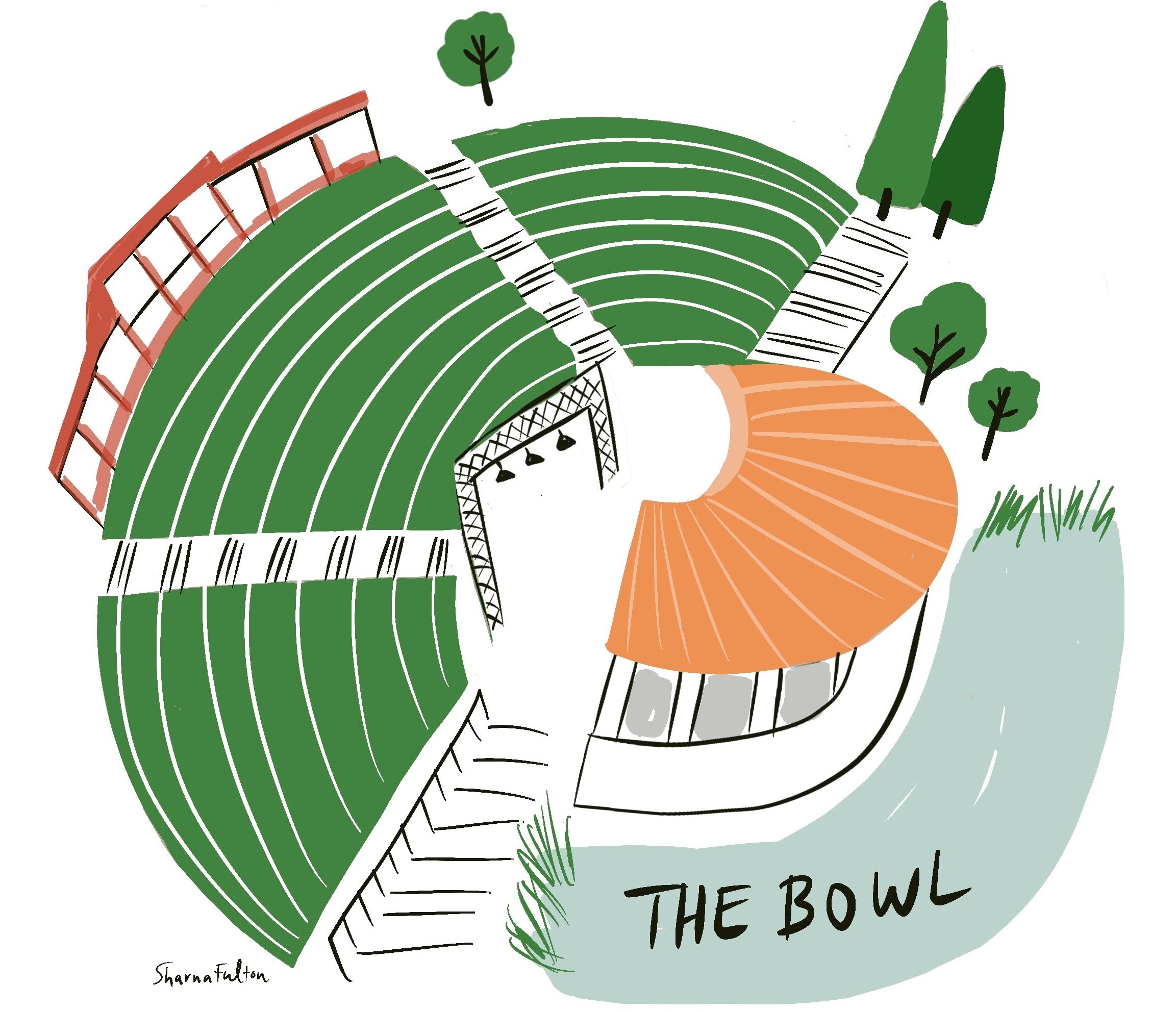 On August 7, The Bowl welcomes Tall Heights, indie folk vocalists Paul Wright on cello and Tim Harrington on guitar. Getting their start on the streets of Boston, the duo now reaches millions of listeners playing at some of the biggest festivals and most popular venues across the globe. Having performed with Ben Folds here in 2017, Tall Heights loves The Bowl. Here's 10 reasons you will, too.
You get to experience live music in one of Georgia Explorer's best outdoor music venues. The Bowl is home to sold-out rock and roll shows like Pat Benatar & Neil Giraldo, as well as intimate, backyard-like concerts where performers can play acoustically.
Just like the name sounds, The "sunken" Bowl looks like it's been scooped into the landscape. Nestled behind City Hall with a view of downtown Sugar Hill's classic brick architecture, the "intimate feeling" amphitheater sits above a pond bordered by giant Leyland Cyprus trees and other gorgeous landscaping. Looking up at the stars makes it even more magical.
It's right in downtown Sugar Hill. That means when you come to a show here, you'll have all the amenities the city has to offer within a few footsteps including restaurants, shops, a history museum, art gallery, lovely grounds, and a stately downtown main street to explore.
Two words. Tiered seating. Because of that, nobody's head will block your view and you'll have a great view of the stage. VIP Suites for up to eight people are also available.
Can you say yum? With a concession stand and great restaurants literally around the corner, plus the option to pack a picnic basket with your own food and drinks, going to The Bowl is more than a concert. It's a culinary experience.
From rock stars to country legends and notable jazz artists, The Bowl offers music for every age and music taste. It all started in 2014 when The Bowl welcomed Haley & Alexis, Andy Velo and The Bacon Brothers for its inaugural show. Except for having to take a break during the pandemic, The Bowl has now continuously hosted over 40 performers in the past seven years.
Parking is free! You'll find a spot for your vehicle on the upper deck of City Hall*, the lower deck under the Eagle Theatre, along W. Broad Street and Hillcrest and surrounding areas. *Parking on the deck below City Hall is reserved for those with ADA stickers.
While The Bowl is convenient if you live in Sugar Hill or Gwinnett County's neighboring cities, it's also minutes from metro Atlanta straight up I-85 and I-985.
You'll love the atmosphere and feel of connecting with the community. Whether planning a special date night, a family outing or just want to solo it, you can't go wrong with an outdoor show at The Bowl.
On concert nights, you'll experience the special energy and amazing vibes of downtown Sugar Hill as you enjoy dinner, drinks or a simple stroll on the adjacent Plaza and Promenade. We hope to see you there.
For tickets to upcoming shows and to learn more about The Bowl, click here.