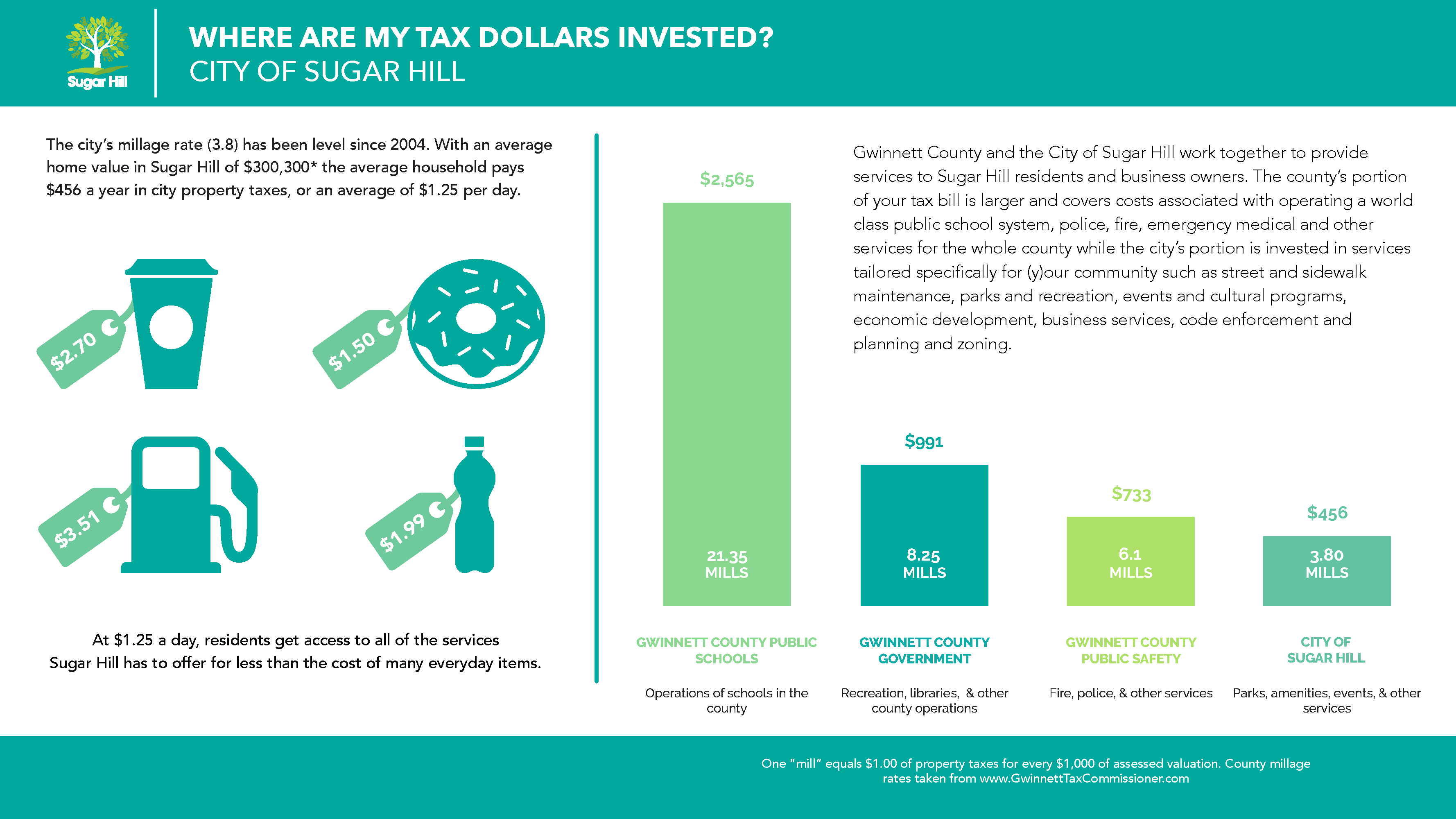 The city provides a neighborhood patrol, and offers a service for the removal of yard debris at no extra charge. Tax dollars are invested into the maintenance and improvement of local streets and sidewalks,  Gary Pirkle Park, Sugar Hill Greenway, enhanced public safety, The Bowl at Sugar Hill which offers several free concerts annually, the E Center gym that is free for residents, and the Dawn P. Gober Community Plaza and Splash Park., Various community events throughout the year are also invested in, including the Easter egg hunt, Sparks in the Park, and the Winter Holiday Celebration. In addition, two new parks are coming soon. More information can be found here: https://cityofsugarhill.com/departments/parks-and-recreation/sugar-hill-parks/
Sugar Hill residents pay a lower rate on solid waste and stormwater utility fees as compared to the Gwinnett County rates.
Home to "the hill where the sugar spilled," Sugar Hill is a thriving city where communities enjoy the sweet life full of local treasures like The Bowl, the Eagle Theatre, and the E Center.
From a sleepy bedroom community to a vibrant downtown, Sugar Hill is home to exceptional parks, community garden and golf course, The Sugar Hill Art Gallery & History Museum, memorable events, concerts in The Bowl outdoor amphitheater, and a 16.5-mile greenway that will wrap around Sugar Hill connecting its neighborhoods to downtown.
In the heart of Sugar Hill, the E Center boasts 180,000 square feet of mixed-use development featuring three unique spaces: the Eagle Theatre, a gorgeous 406-seat Art Deco-style theatre; a gym with walking track; and 40,000 square feet of restaurant, shopping, and office space. Each component of the E Center echoes architectural styles throughout Sugar Hill's 80-year history as a city, paying homage to the past as the community looks to the future. In a city with so much to offer, gather family and friends to come enjoy Sugar Hill.
The Bowl – From famous rock bands to legendary country stars, experience live music in one of Georgia's best outdoor music venues.
The Eagle Theatre – Enjoy national touring shows, $2 Tuesday movies and live theatre productions by Sugar Hill's own performing arts troupe, the Players' Guild in this dazzling Art Deco style playhouse.
E Center – Restaurants, shops, businesses and a full-service gym with courts and indoor track co-mingle in this mixed-use modern classic architectural centerpiece at the heart of "the sweet city."
The Suite Spot – To encourage entrepreneurs and small businesses to grow and thrive, the City of Sugar Hill offers this co-work space conducive to productivity.
Work/Live/Play – Whether you're raising a family, a single professional or retiring here, the City of Sugar Hill has everything you need to live a well-balanced life.
The Splash Park and Sugar Hill Ice Rink – Cool off during warm weather at our popular splash park with "Splash Night" events for the whole family in the summer. Then, glide across the ice during the cooler months at our outside ice rink the same size as Rockefeller Center's!
Sugar Rush – The City of Sugar Hill loves the arts, and our annual arts festival is proof! Each year, hundreds of art lovers come to see a juried art show, painters, arts & crafts vendors, food trucks, live music and more.
History Museum & Art Gallery – Explore Sugar Hill's past with standing and revolving exhibits that highlight the city's gold mining past, Lake Lanier and more. Then, stop by next door to see fine art exhibitions curated by the City of Sugar Hill Arts Commission.
Sugar Hill Greenway and Parks – Walk, run, ride your bike or non-motorized vehicle along the 16.5-mile linear trail that connects residents and visitors to downtown and adjoining E.E. Robinson and new Gold Mine Park. Stretch your legs at Gary Pirkle Park with its 67 acres, Richland Creek, five multi-purpose fields, a giant playground, picnic pavilion, park trails and community garden.
Downtown – Loaded with charm, downtown Sugar Hill is the place to be! Take a morning stroll with coffee in hand down brick-paved W. Broad St. and around the Promenade. Meet a friend for lunch at one of our popular cafes and eateries. Sip drinks and enjoy dinner al fresco while listening to acoustic music along the Plaza. Don't forget to soak up "the sweet city's" classic architecture, fountains, and gorgeous landscaping, too.
Sugar Hill's downtown entertainment district is home to outdoor amphitheater The Bowl, the Eagle Theatre, restaurants, boutiques, luxury apartment homes, the Sugar Hill Art Gallery and History Museum, City Hall, and Veterans Memorial.
The city's investment in its downtown has spurred over $270 million in private investment and various development projects will bring multiple options for housing to the walkable downtown.
For city taxes, the tax rate or millage rate is set annually by the Mayor and Council of the City of Sugar Hill. One mill is one-thousandth of one dollar or one-tenth of one cent.
The City of Sugar Hill has adopted a 2021 millage rate of 3.8 mils, which is the same millage rate the city has adopted for 17 consecutive years.
The City has developed a rate structure that apportions costs to properties based on the relative demand (or amount of stormwater runoff contribution) that a parcel places on the City drainage system and Stormwater Management Program. The Stormwater fee is currently set at a monthly fee in increments of $1.50 per every 1,000 square feet of impervious surface, which equates to an annual fee of $18.00 per 1,000 square feet. The Stormwater bill will be sent to the property owner with the City of Sugar Hill property tax bill.