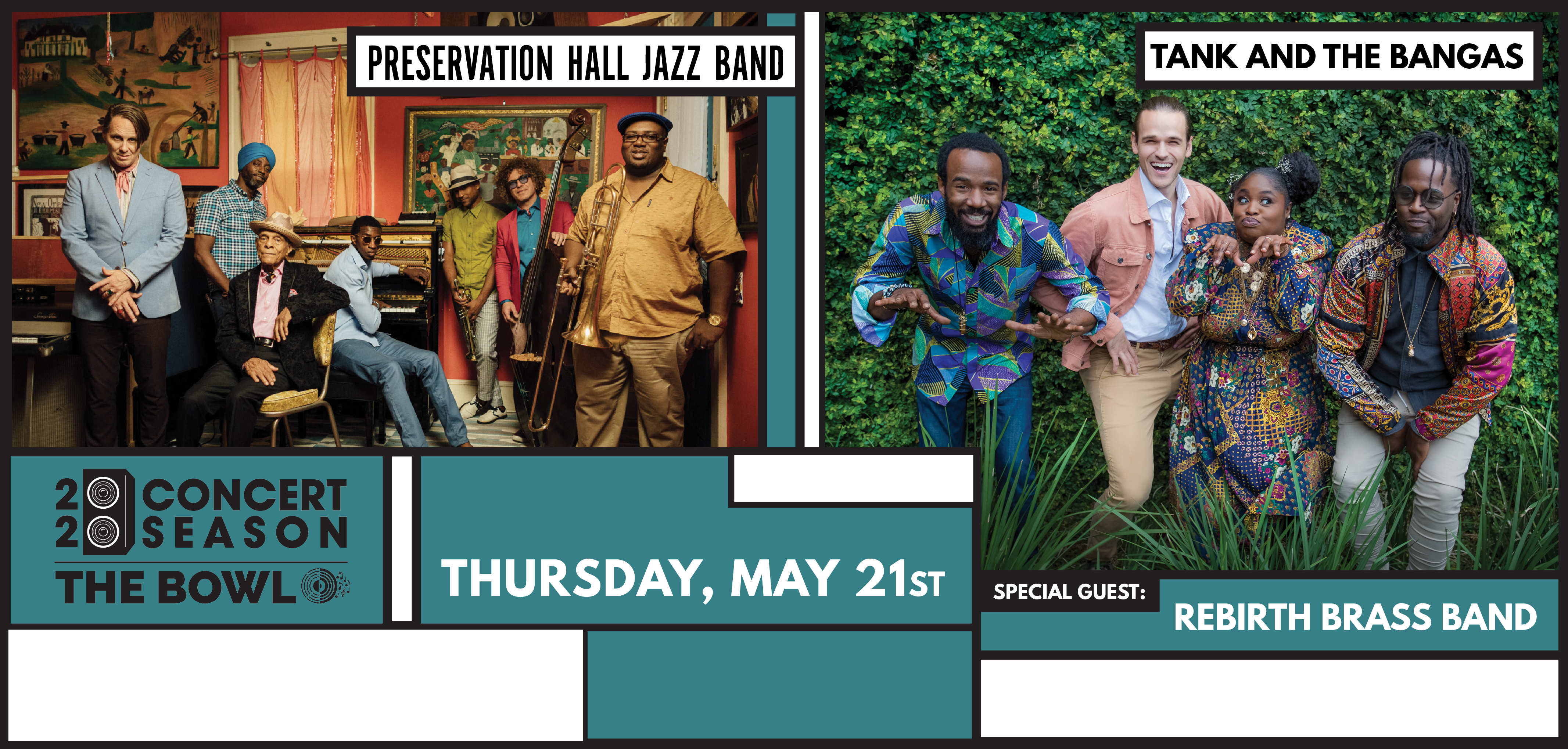 The Bowl is excited to announce that on May 21st we will host the eclectic New Orleans Jazz bands: Preservation Hall Jazz Band, Tank and the Bangas and Grammy-winning Rebirth Brass Band. You won't want to miss this funky night of soulful sounds under the stars.
We are going to hope for the best and plan as if the event will happen as scheduled, but the health and safety of everyone involved will remain the #1 priority and we will take the proper action to insure this.
We will have tickets available for a local presale, Tuesday 3/17 at 10:00 am!
General public ticket sales will begin on 3/17 at 12:00 pm.

PRESALE STARTS:
March 17th at 10:00 am
BUY TICKETS: https://www.bigtickets.com/e/sugarhill/phjb-tatb/

DETAILS:
Limited up to 8 tickets per user.
The general public will not require a code to purchase tickets. General Public sale starts on Friday, 3/17 at 12:00 pm.
If you have any issues purchasing tickets on BigTickets.com or if you have any additional account questions, please contact BigTickets.com office at 1-888-318-2752 or support@bigtickets.com.
For any other questions please email us at events@cityofsugarhill.com or call 770-945-6716.
This presale is online only. Tickets subject to availability.

**Due to changing public health practices, protocols and policies these event dates, locations, and times are subject to change or cancellation. Stay subscribed to keep up with the latest news.
Thank you for subscribing to our email list for City of Sugar Hill event information!