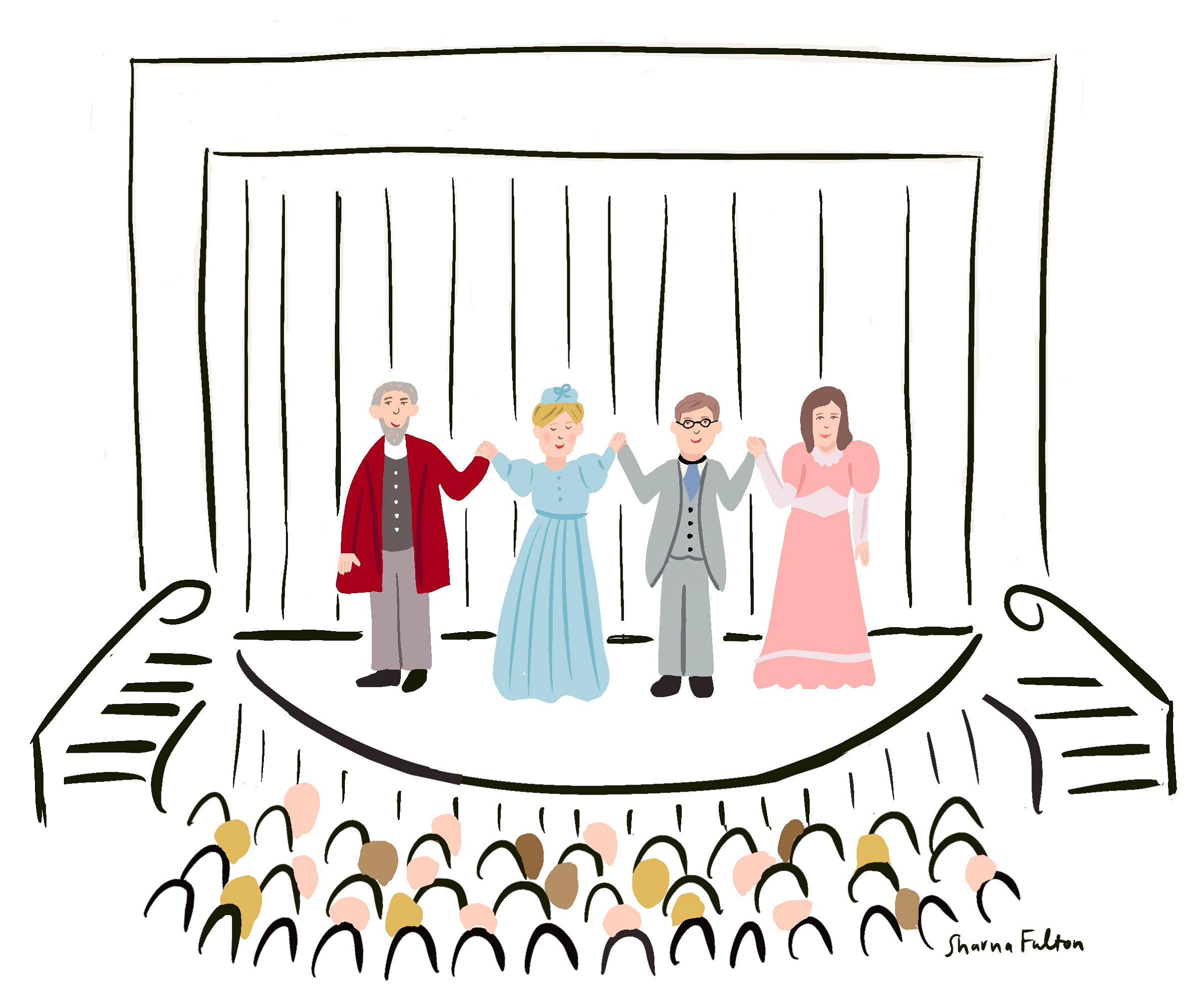 In eight short years, the Players Guild has grown from a small theatre group performing for 30 people into a regional acting troupe putting on four shows a year before a packed house. In fact, its beginnings were so humble that the cast had to move the dress rehearsal for their first show, Agatha Christie's "And Then There Were None" from outdoors in The Bowl to the city's underground parking area because of torrential rains.  
"It turned out to be a fun place to perform a murder mystery," recalls Ane Mulligan, Chairman of the Board and co-founder of the Players Guild. The organization was established in 2013 when Mayor Steve Edwards approached Ane and Alan Hyma about starting a community theatre. After incorporating as a nonprofit with the state, it wasn't long before the city unveiled its plans for the E-Center and the yet-unnamed theatre.  
Today, the dazzling art deco Eagle Theatre on W. Broad St. in downtown Sugar Hill is home to the Players Guild. "It's a huge asset to us," says Mulligan. "Most community theatre troupes perform in church basements or warehouses. Being in residence at the Eagle helps draw some of the best talent around." The theatre also offers special effects in lighting and sound. "Our patrons have a beautiful experience coming to the Eagle with its comfortable seats, wonderful sound and concessions." 
Playgoers also benefit from an evening of entertainment put on by a close-knit cast and crew. The nonprofit theatre troupe of 100 is a family of sorts including actors and those who run the show from behind the scenes," according to Mulligan. A lot of time and planning goes into making a Players Guild show. Production meetings are held five to six months in advance. Auditions take place three to four months prior to each play's premiere. When all is said and done, more than 100 hours of rehearsals and 100 hours of set design goes into each show.  
Because of their commitment to putting on high quality productions at the Eagle Theatre, it's no wonder the Players Guild attracts professional actors and other talented individuals from all over metro Atlanta. Contributing even more to the arts in the community, the group partnered with On the Stage Theatre Alliance this summer to host a children's acting camp.  
Now, with 21 shows that have wrapped and four more coming this season, Mulligan is excited about the future of the Players Guild. "It's always been our mission and vision to provide top quality, family-friendly entertainment to promote the arts in Sugar Hill and draw patrons to the downtown business community. We'd love to see Sugar Hill become the center for the arts and entertainment for North Georgia." Pl
To get tickets for the next Players Guild's production, Neil Simon's "The Sunshine Boys" on August 13-22, visit the Eagle Theatre website. For more information, visit the Players Guild.