Join us for a free concert at The Bowl in preparation for the Sugar Rush Arts Festival on October 20 at 6 p.m. MIXTAPE has mastered stunning renditions of Billy Idol, Cyndi Lauper, Michael Jackson, Prince, Tina Turner, Back Street Boys, Bel Biv Devoe, No Doubt, The Cure, Madonna and many more come to life right before the bedazzled eyes of the crowd. Its theatre meets live music, smothered in 80s & 90s glitz!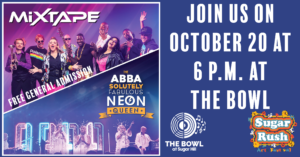 MIXTAPE is known for its highly energetic Las Vegas styled shows, that come complete with costumes, a stunning light show, and a collage of video content to accompany each song. It's an all-in sensory performance like no other and a party you must experience to believe!
Bright lights, disco beats, soaring female-fronted vocals, intricate harmonies, and the incredible music of ABBA — that's the magic of The Neon Queen. Their high-energy shows invite the audience to dance and sing along to some of the greatest pop songs of all time.
The Neon Queen was created in 2018 out of a desire to do something different to honor the timeless songwriting of ABBA. Their unique show covers the hits like "Dancing Queen" and "Mamma Mia" and highly danceable singles like "Gimme! Gimme! Gimme! (A Man After Midnight)" and "Take A Chance On Me." But you'll also find a few surprises with musical mashups featuring icons such as Madonna, Britney Spears, Donna Summer, and even Dolly Parton.
There was no decade like the '80s & '90s and no party like THAT'S MY JAM! with MIXTAPE.  Bring your lawn chair, throw on your best neon, use extra hair spray on that hair – because it's time to party like its 1989!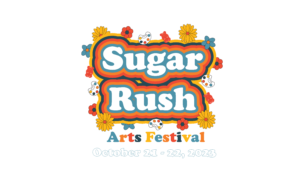 The Sugar Rush festivities take place over the following two days, starting on Saturday, October 21, at 10 a.m. and ending at 6 p.m. The fun continues Sunday, October 22, from 12 p.m. to 5 p.m. so that everyone can join in the celebration.
At the festival, there is something for everyone to enjoy. Music lovers can delight in live performances from local artists and bands, adding a vibrant rhythm to the event. Food enthusiasts will find themselves in a food haven with various amazing treats from various food vendors. With 100-plus local vendors participating in the event, the Sugar Rush Arts Festival offers something for everyone to enjoy — such a fantastic way to support local businesses.