PLANNING AND DEVELOPMENT
Five (5) single-family home permits were issued in November with an average square footage of 2,996 and five (5) multi-family home permits were issued with an average square footage of 2,349. A permit for a 500 square foot remodel was issued for RaceTrac, allowing them space to introduce additional ready-to-eat hot meal options.
Department staff has conducted 34% fewer building inspections year-to-date in 2020 (2,145) compared to those conducted during the same reporting period in 2019 (3,256). The number of property maintenance and zoning enforcement inspections has increased with 4.5% more inspections (4,414) conducted year-to-date than those carried out during the same reporting period of 2019 (4,222).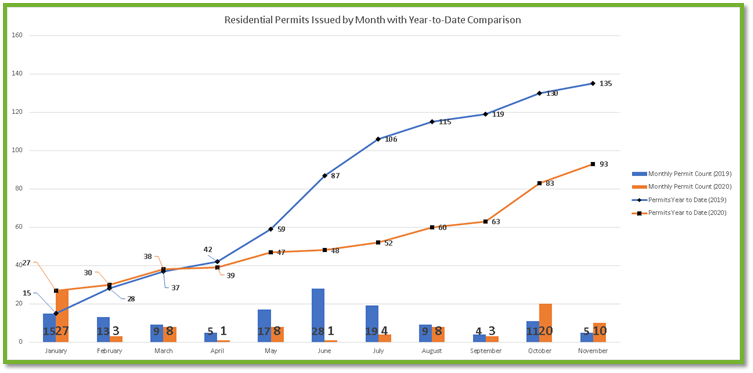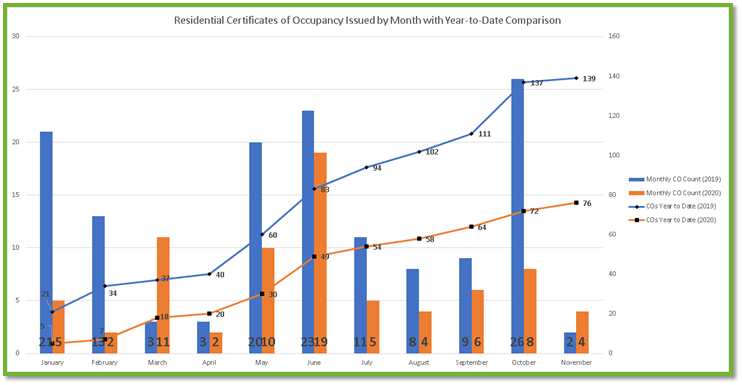 PARKS AND RECREATION
Parks.  The original turf fields at Gary Pirkle Park remain closed from the storm damage. Sealed bids were received on December 3rd for turf replacement. The field renovation project is going well. Rock and stone base and new curbing has been installed for the new pathways. Wire was run for the power poles and the lighting vendor is working to complete the move of the athletic lighting. New turf will be delivered and installed this month.
Ice Rink. The Ice Rink has been extremely popular with great attendance during the Thanksgiving holidays with attendance over the 3,000 mark for the season.
Downtown and City Hall. Weekly maintenance was completed throughout the downtown area. Holiday decorations were installed at City Hall and throughout the entire downtown area bringing a festive spirit to downtown Sugar Hill.
E Center. Gym memberships have reached 11,767 and thorough cleaning practices continue throughout the facility. Classes and programs are still limited with a few private rentals being held in the Waterfall Room and classroom space.
Golf.  November resulted in another successful month at the course. The maintenance team continues to work on winter treatments and clean-up of the course. Renovation work on the Clubhouse restroom and hallway are expected to begin in January and last through the month. The Santa Charity Classic Tournament was held this past Saturday. All participants were asked to bring an unwrapped toy or a $10.00 donation for entry. The donations will be passed along to local children in need. For more information on the course or membership, contact a representative from the Golf Course at 770-271-0519.
EVENTS
This past month we continued fall programming of movies in the Bowl and live music on the Promenade every Friday and all were well attended. The Andrews Brothers Dueling Pianos event, postponed to November was well-attended with nearly 300 people enjoying the show. We hope to have them back for a show in the Eagle next year. On November 11th staff assisted with execution of the annual Veterans Day Memorial Event. Private rental events were held on the Portico, in The Eagle, in The Bowl and downtown throughout the month of November. We estimate about 3,000 attendees for the month at the various special events downtown.
Staff launched the "Giving is Sweet" program on the 16th of November. The focus is specifically for gathering items to donate to Lanier and North Gwinnett cluster schools and the North Gwinnett Co-Op. Items include school supplies, food, cleaning products and more. The Eagle Theatre and many of the Downtown Sugar Hill businesses are drop-off locations through the holidays. We received many deliveries for The Eagle Theatre upgrades and new additions for outdoor events in November. This includes two, all-terrain, portable stages to be used at events in the various locations outside downtown. All the projects focus on improving sound, lighting, and sightline quality for our wide range of events and in light of the pandemic-related restrictions.
The city partnered with the Aurora Theatre in The Bowl for their Christmas Canteen show on the 5th and 6th of December. The outdoor event was well attended. There is no annual tree lighting or in-person visits with Santa due to the COVID-19 pandemic. The Eagle Theatre and The Bowl have private rentals scheduled throughout the month.
For more information on 2021 events, please visit www.thebowlatsugarhill.com and www.eagleatsugarhill.com
ECONOMIC DEVELOPMENT/COMMUNITY CONNECTIONS
Virtual Visit with Santa.  Santa made time in his busy schedule to visit (virtually) with over 40 Sugar Hill families on December 10th, ending the evening with a live-streamed reading of "T'was the Night Before Christmas." Thanks to Broadstone Sugar Hill for hosting Santa in their clubhouse and for sponsoring this event!
2020 Ornaments. The annual Sugar Hill ornament is available at Customer Service in City Hall while supplies last.
Volunteer Celebration. Although everything is different this year, our volunteers have continued to anchor the community and support opportunities to engage with and support friends and neighbors. We will recognize our annual Volunteer of the Year and Susan Roebuck Community Champion of the Year with a socially distanced, drop-in celebration on Tuesday, December 15th, and our volunteers will be treated to a warm winter drink and treats. We will be announcing the 2020 Volunteer of the Year and the 2020 Susan Roebuck Community Champion via a video message from the Mayor at 2:00 PM tomorrow (Tuesday), so check our Facebook page for the announcement.
Small Business Saturday. Small Business Saturday on November 28th was a solid success for our downtown businesses. Back again this year is the "shop small" passport book. While visitors shop, dine, donate, and join, stamps are collected from each business. Merchants will be awarding stamps throughout their normal hours of operation from November 28th to December 20th, 2020. After collecting five or more stamps, shoppers can submit their completed passport to be entered to win one of our Small Business Saturday giveaway gift baskets. We will also be offering downtown rewards of branded Downtown Sugar Hill items including a basketball, yoga mat and other items that patrons of downtown businesses who spend above a threshold will receive for free by showing their receipt at customer service.
Shopping By Candlelight: Downtown Open House. The event brought shoppers and visitors downtown on November 19th and our businesses reported strong pedestrian traffic as well as increased sales and expressed appreciation for hosting of the safe, socially distanced event. Southern Grace was voted the "most festive" for business decorations downtown.
Giving is Sweet. The City of Sugar Hill is proud to partner with our downtown businesses for Giving is Sweet, a community donation drive benefitting the North Gwinnett Co-Op and Lanier Cluster Schools. This holiday season donations will be accepted at various business locations around Downtown Sugar Hill including: The Eagle Theatre, Rushing Trading Co., Orange Theory Fitness, Indio Brewing Company, Knuckies Pizza and Hoagies, Broadstone, Perazim, Central City Tavern, and the E Center Gym. The full list of donation items and drop-off locations can be found online, and items will be accepted through the 23rd of December.
PUBLIC WORKS AND UTILITIES
Gas Department.  The total number of transmitters installed on our automated metering system is 5,977 addresses moving past the midway point. Our utility locating staff completed services on 480 (down from 525 last month) sites and worked with our construction contractors on various sites around the city to protect our underground utilities. Staff has been working through regulatory compliance tasks, new service installations, and 80 other service requests to round out the workload last month.
Street & Stormwater Department.  The yard debris team is back and delivered one load of mulch, three loads of rock, and collected 177 truckloads of bagged clippings for the month.  This generated nineteen (19) loads of debris to the disposal site. Tropical Storm Zeta came through the city taking trees and tree limbs down across the city.  It took about three weeks to catch up and remove the debris from the right-of-way and from the residents beyond a normal fall pattern.  Stormwater staff continued their proactive inspection program, drain clearing, and regulatory compliance efforts (training) also assisting city projects with pipe inspections.
CONSTRUCTION UPDATES
Peachtree Industrial Greenway Trail Project.  The contract converged on substantial completion in November with a handful of punch list items remaining prior to final completion.  Handrailing, guard-railing, and a few drainage repairs are required to close out this project.
Whitehead Road Greenway Trail Segment.   Ohmshiv Construction is substantially complete with this segment.
Sugar Hill (Main) Greenway Trail.  Construction is underway focusing on the Level Creek Road end of the job at its intersection with Church Street to and through EE Robinson North park.  The contractor has completed segments in front of Sugar Hill Elementary as well as completed clearing and erosion control installations south toward the park.  Submittals, RFI's, orders are still a significant portion of the progress, but construction is hitting its stride going into 2021.
Gary Pirkle Park Field Improvements.   Construction of the new fields continued with significant progress as the contractor installed the perimeter edging and began rolling out the fabric.    Advanced Sports Group, the city's general contractor is expecting to conclude the project near the end of January with final completion expected later in the first quarter of next year. The work and progress to date is being coordinated with the various user groups, leagues, and programs in the park.
Art/History Room Buildout – Broadstone Project.  Stonepoint, our general contractor from Sugar Hill, has completed wall construction and is set to install the built-in desk, lighting, storefront, and other millwork in December.  City staff is currently providing input on the signage and finish elements as we move into the home stretch on the project.
Sweet City/22-Acre Passive Park Project.  Our design team is on the front end of the design of the first phase of improvements at the park whose preliminary scope is set to include a parking lot, pavilion, pond repairs, walking paths, and restroom building.
Frontier Forest Water Main Replacement (Gwinnett DWR).  Gwinnett County Department of Water Resources (DWR) will begin a project replacing old water mains in the Frontier Forest neighborhood in January.  The roads affected by the project are listed below and direct communication is being provided by DWR:
Davis Street
Frontier Trail
Frontier Way
White Oak Drive
Forest Green Drive
The project is expected to take the better part of ten (10) months to complete.