PLANNING AND DEVELOPMENT
Two single-family home permits were issued in the month of December, averaging 2,705 square feet and eight townhomes were permitted averaging 1,867 square feet each. Several commercial building permits have been issued, including the permit for the American Legion on Suwanee Dam Road and Dunkin restaurant near Legacy Academy on Peachtree Industrial Boulevard. A permit for Dogwood Forest, an assisted living facility that is planned to be nearly 150,000 square feet was issued this past month as well.
New Homes Permitted in 2019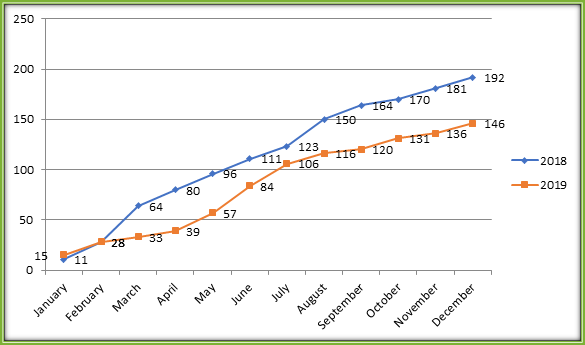 New Homes Completed in 2019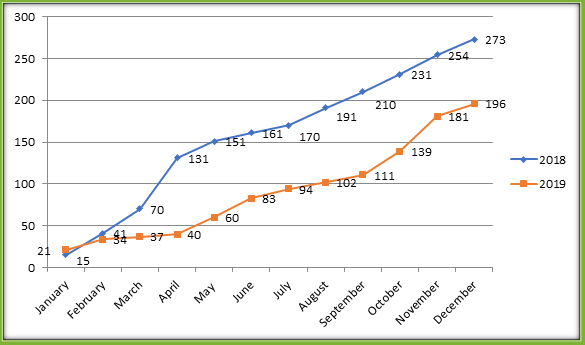 In the month of December, 180 building inspections were accomplished. A total of 3,436 inspections were performed during 2019 which is nearly 20% or 682 fewer than those completed in 2018.
A total of 266 zoning and property maintenance code inspections were completed in December of 2019.  During 2019, a total of 4,488 code inspections were completed. Collectively, 17% or 650 more inspections were completed than those carried out in 2018.
PARKS AND RECREATION
Parks.  Regular maintenance occurred throughout Gary Pirkle Park. All In Futbol Club and i9 Sports leagues continue practice and play on the fields. A few updates were made to the park restroom facilities. The Community Garden plots were cleaned, and several projects were carried out to improve the garden and surrounding area.
Downtown and City Hall. Holiday decorations were removed and stored. Regular grounds maintenance activities continued at City Hall, The Suite Spot, The Bowl and the Plaza. Repairs and testing were performed to the Splash Pad and holding tank. Repairs were also completed on the fountains at the E Center.
E Center. Gym memberships now exceed 8,860 with a variety of different activities and health-focused classes offered. The E Center monument signage was installed with a few repair items on the punch list currently being addressed.
Golf.  Despite the colder, wet weather during the month of December, numbers of rounds played were strong, ending the year on a positive note. Seasonal greens maintenance continues, and equipment repairs were completed. Several tournaments were held including the Sugar Hill Golf Association Santa Charity tournament which raised $500 and many new toys donated to the North Gwinnett Co-op.
EVENTS
December welcomed a variety of events in downtown Sugar Hill. The Holiday Celebration was held on December 7th with over 5,000 in attendance. Guests enjoyed a winter wonderland in downtown Sugar Hill to include visits with Santa, a holiday market, a tree lighting ceremony, and ice skating along with many other exciting activities. The Eagle Theatre hosted Tim Shelton's A Very Vintage Christmas concert on the 19th of December.  A month of holiday movies were offered for $2 Dollar Tuesdays and Winter Break Bash and four private rentals were held in the Eagle Theatre. The Player's Guild presented a check for $4,187.00 to the American Cancer Society with the proceeds they earned from Calendar Girls. Over the course of the month, more than 9,000 people attended various events and experienced downtown Sugar Hill.
Upcoming Events. 
The Eagle Theatre:
1/14                Movie: Wonder (10:30 AM and 6:30 PM)
1/18                Chilly Willy 5K (in downtown)
1/21                Movie: Rocky (10:30 AM and 6:30 PM)
1/28                Movie: Legally Blonde (10:30 AM and 6:30 PM)
1/30                Player's Guild: Up, Up and Away Open Dress (7:30 PM)
1/31                Player's Guild: Up, Up and Away (7:30 PM)
2/1                  Player's Guild: Up, Up and Away (7:30 PM)
2/2                  Player's Guild: Up, Up and Away (3:00 PM)
 ECONOMIC DEVELOPMENT/COMMUNITY CONNECTIONS
Volunteer Celebration
The annual celebration of Sugar Hill's outstanding volunteers was held at the close of 2019. Kathryn Baskin, a member of the Sugar Hill Historic Preservation Society and the Sugar Hill Area Women's Club, was recognized as the 2019 Volunteer of the Year and Steve Graessle, a member of the Sugar Hill Community Garden and Friends of the Greenway, was honored as Community Champion of the Year. Thank you to all the volunteers and staff that make our community so strong.
Winter Community Clean-Up
Save the date for the first community clean-up of 2020. Join us on Saturday, February 29th from 10:00 AM until 11:30 AM.
Southern Grace
Southern Grace floral and gift boutique celebrated their first full month of business in the E Center and hosted the January Business Alliance meeting. The shop is open Monday to Thursday from 10:00 AM to 6:00 PM and Friday to Saturday from 10:00 AM to 8:00 PM. Southern Grace features unique stationary, décor, and custom floral creations as well as hand poured candles made by owner Tracy Youngblood-McDaniel.
Knuckies Gourmet Hoagies and Crazy Dough's Pizza
Knuckies Gourmet Hoagies & Crazy Dough's Pizza (previously known only as Crazy Dough's Pizza) reopened in December after a short closure to upgrade menu offerings and the interior of the space. Crazy Dough's will still offer full pizza pies for lunch and dinner and Knuckies brings over 20 delicious sandwich options to the E Center.
PUBLIC WORKS AND UTILITIES
Gas Department.  We completed the year with nearly 4,000 of our accounts having automated meter-reading transmitters for the system since the replacement program began in late 2017.  The department was able to complete an important pipe replacement project by the end of the month; approximately 750-feet in length and serving a number of families in the area of Chatham Road last month.  Staff also completed utility-locate services on nearly 460 sites for the month and worked with our construction contractors in various sites around the city to protect our underground utilities.  The staff has been working through regulatory compliance tasks, new service installations, and 85 other service requests to round out the workload last month.
Street & Stormwater Department.  Leaf, lawn clippings, and debris management is now the prominent activity for our staff during the late fall and early winter months.  Twenty-four (24) loads of yard debris were collected and hauled to our disposal site during the month.  Staff has been working through tree trimming in the rights-of-way to close out the year as well.  Our stormwater staff completed repairs to drainage structures and performed development and maintenance inspections associated with our stormwater permit.  In addition, staff cleared out curbs, gutters, drains and inlets prior to recent storm events.
CONSTRUCTION UPDATES
E Center.   The facility concluded 2019 with 86% of the spaces leased with only three suites remaining.  Orangetheory Fitness Studio and Red Clay Interactive, the latest two tenants were also in the process of building out their spaces last month.  New South Construction continues to focus on a handful of lingering warranty items including the water feature pool waterproofing (temperature/weather dependent), theatre handrail stain, and roof blisters.  These are all being addressed as materials and labor resources are available as well as in alignment with schedules and weather conditions.
Sidewalks Projects – Whitehead and Suwanee Dam Roads. Striping and handrail cleanup were all that remained for sidewalk construction on Whitehead with that phase being substantially complete.  Minor punch work will closeout this portion of the job. One segment northeast of Sugar Ridge is being deferred to a later project, allowing the county a chance to repair a stormwater culvert northeast of Sugar Ridge Road.  The Chattahoochee Group has shifted operations to Suwanee Dam Road and has already completed a few segments on this phase.  The segments between the fire station and Austin Garner is next on the schedule and expected to start this month, weather permitting.  The project is expected to wrap up later next month.
Sugar Hill Greenway.  The main segment of the greenway is being redesigned to address comments from Georgia Department of Transportation as well as from Gwinnett Water Resources and an interim review copy has been provided. The next segment to be constructed will be along Peachtree Industrial Boulevard from E.E. Robinson Park to the county's new park, completing a continuous segment of just less than a mile.  Additional alignment and scope modifications are underway in order to keep the project moving on the two ends of this phase.
Veterans Memorial Relocation.  Surfaces Group, the city's general contractor, is continuing work on pavers, concrete sidewalk, and the hardscaped elements of the project, having made significant progress.  Surfaces Group is still waiting on several granite panels, which must be prepared and cut before they can be delivered and placed, notably on the curved portion of the water feature.
2019 Bowl Improvements.   Brick masons have completed work on the concession building as have the plumbing, electrical, and low voltage subs.  Artificial turf installation is underway with the contractor able to install nearly half of the area in December.  The project currently includes customer-focused improvements, such as lighting, sound, and visual enhancements centered on concessions space and finishes.  The contractor anticipates reaching substantial completion in April.
Gary Pirkle Park Field Improvements.  The lighting and turf suppliers have provided design input and our design team is finishing up the construction documents this month.  The bid phase is right around the corner and expected to advertise in February.  The proposed synthetic turf solution will be weather-resilient, providing three field sizes and four different configurations as options.
Art/History Room Buildout – Broadstone Project.  Three proposals were received from local design firms.  Each has been scored by a selection committee and a recommendation will be ready upon completion of interviews with each firm, anticipated later in January.    The project is a part of the proposed 2020 budget.