PLANNING AND DEVELOPMENT
One permit was issued in the month of April for a 2,723 square feet single-family home.  A remodel permit was also issued for a dental office located in building C at 4300 Westbrook Road.  A certificate of occupancy was issued for a chiropractic office located in building E at 4300 Westbrook Road. The doctor of a medical practice located at 4700 Nelson Brogdon Boulevard recently completed his office expansion and received his certificate of occupancy.
Residential Permit Issued by Month with Year-to-Date Comparison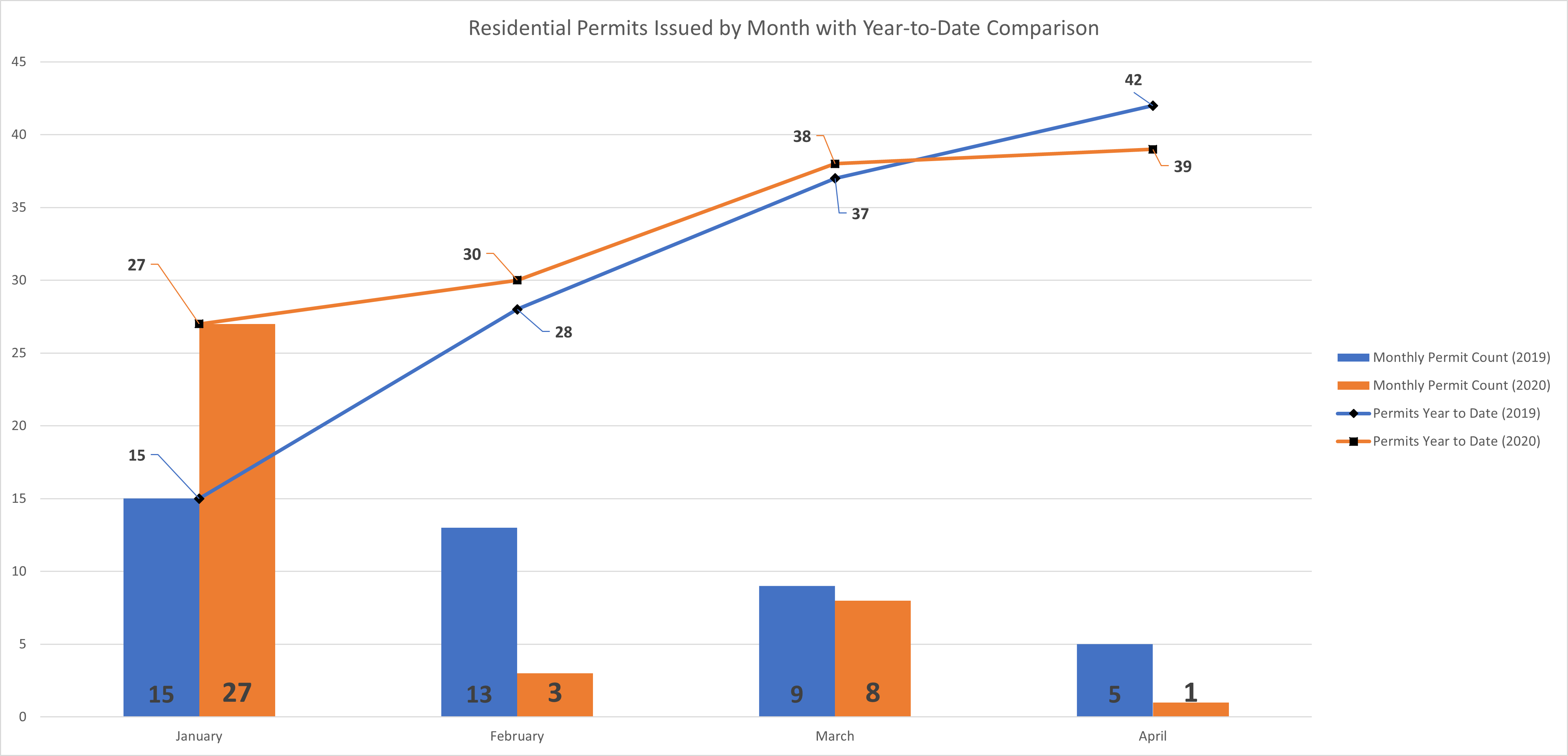 Residential Certificates of Occupancy Issued by Month with Year-to-Date Comparison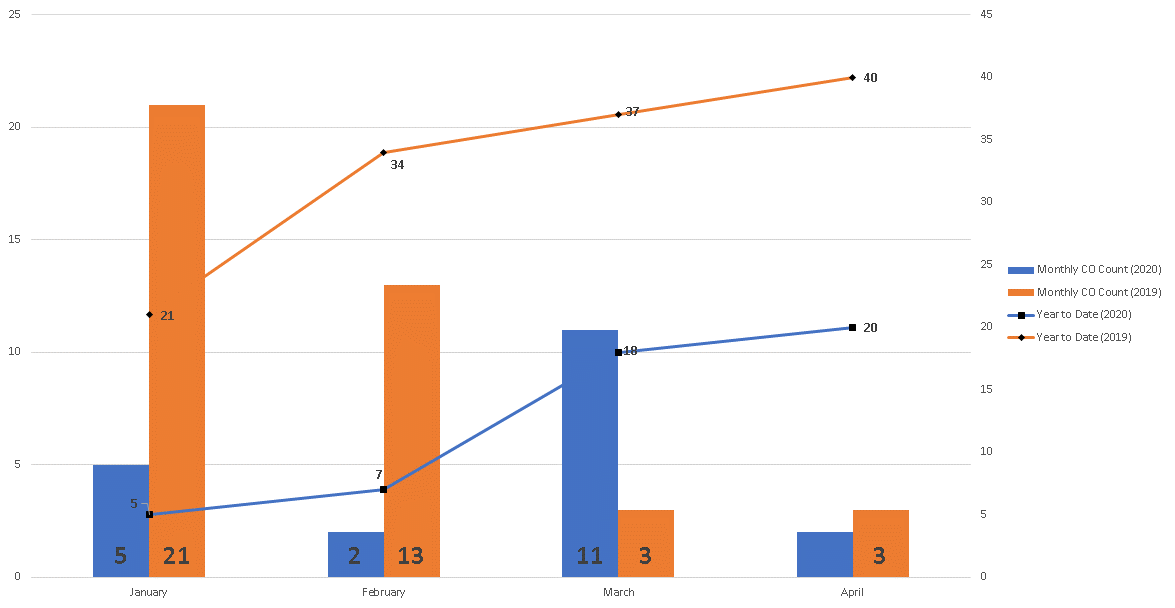 In the month of April, 192 building inspections were accomplished; a decrease from the 318 performed the previous April.  Year-to-date, about 200 less inspections have been performed in 2020.  A total of 797 zoning and property maintenance code inspections were carried out this April, an increase from the 518 performed the previous April. Year-to-date, about 350 more code compliance inspections have been carried out.
 PARKS AND RECREATION
Parks.  Regular maintenance was completed throughout Gary Pirkle Park. The playground equipment was thoroughly cleaned and sanitized. Trimming of trees and shrubs as well as fresh mulch application continued throughout the park. Installation of new tile flooring was completed in the restroom facilities. All traffic and pedestrian fencing received a fresh coat of paint. Community Garden projects continued with drainage and irrigation repairs. An application of herbicides was added to all drive and pathways.
Downtown and City Hall. Weekly maintenance occurred through the downtown area. Staff worked to trim trees, clear weeds and add fresh mulch to the plant beds as beautification projects continue around city hall and throughout the downtown area.  Restroom facilities continue to be cleaned and sanitized daily. Maintenance, testing, and upgrades to the Splash Park's control systems continued with leak detection, piping repairs and work on programming for the operations system.
E Center. Staff continues intensive, "spring" cleaning of the facility and operational plans in preparation of a phased re-opening to the public.
Golf.  This past month at the course was the best April within the past six years with rounds and revenues reaching a 6-year high. Seasonal treatment of the turf continues, and the greens are recovering nicely from dormancy. The course was closed a few days in April; however, management and staff worked to create and implement operational plans for the grill, pro-shop and course to allow for re-opening to the public while maintaining proper recommended guidelines for the health and safety of all involved. The Sugar Hill Golf Association hosted a 2-player triple 6 tournament on Saturday, April 18th and a great day of golf was had by all participants. The Club Champion will be crowned in May as the championship tournament is planned for the 16th and 17th.  For more information on the course or becoming a member of the Sugar Hill Golf Association, contact the Sugar Hill Golf Course at 770-271-0519.
EVENTS
All events in April were either cancelled or postponed due to the pandemic. This included the postponement of two week-long rentals and Indio Brewing's Sour Patch 5K event. These events have been tentatively pushed to late summer. Among the cancellations were the Spring Break movie series, Sugar Hill Church's Easter Sunrise Service in The Bowl and the Lanier Cluster MakerFest and WOWEE 5K event. Live Bowl and Theatre events for the month of May have also been cancelled or rescheduled.
In place of physical events, the team created and implemented virtual events for residents and fans to enjoy safely at home while staying connected. The interactive events included live storytelling via Facebook, Tuesday Trivia complete with prizes to support our local businesses, at-home activity pages on The Bowl and The Eagle websites, interactive social media content, and Tour de Chalk, a special contest encouraging people to create chalk art designs at their homes and to walk through their community viewing chalk art created by their neighbors. The team recently challenged the City of Norcross to a virtual Lip Sync Battle in order to create some fun and excitement between the two communities.
A virtual Memorial Day event at the new Veteran's Memorial is scheduled for May 25th and will be shown via Facebook live. Plans have also been implemented for any guests that would like to attend the event in person following proper social distance guidelines and appropriate safety measures. A phased re-opening approach will begin in June with outdoor events.
ECONOMIC DEVELOPMENT/COMMUNITY CONNECTIONS
At the request of the Mayor and City Manager, the Sugar Hill Economic Recovery Task Force was established and held an initial virtual meeting at the close of April. The group's work focuses on effective local economic recovery efforts, business support, community health and community development and outreach. The quarterly community roundtable was held virtually at the end of April. Representatives from the various community groups discussed current experiences and ways to work collaboratively once it is safe to hold in-person meetings again. Staff participated in webinars and conversations with various organizations to stay informed about best practices that can be applied to business support, communications and community engagement in Sugar Hill. The team continues to invest time, creativity and adaptability in a public communications strategy to ensure continued community engagement and information sharing during this critical time.
PUBLIC WORKS AND UTILITIES
Gas Department.  The department has been working on several infrastructure projects in the older sections of the system.  Our utility locating staff completed locate services on 599 sites for the month and worked with our construction contractors in various sites around the city to protect our underground utilities.  All staff has been working through regulatory compliance tasks, new service installations, and 59 other service requests to round out the workload last month, including leak investigations, setting new meters, and other customer-driven requests. As a reminder, we are only performing pilot-lighting services in emergency situations.  Customers are encouraged to contact a mechanical or plumbing service technician to assist in routine matters.
Street & Stormwater Department.  The street department repaired potholes on Ashford Crossing, Eagle Rest Trail, and Rolling Rock Drive.  Downed trees from recent storms were also cut and removed from roadways in several older neighborhoods.  The staff delivered 15 loads of mulch and two dumpster rentals during the reporting period.  Yard debris collection and other sanitation services are resuming in May with only minor modifications to their pre-pandemic levels of service.
Our stormwater staff checked and cleared drains during some of the more intense storms of the early spring.  Staff was also able to scramble and meet one of our public involvement and education requirements very creatively during the pandemic in front of city hall.  The plan for the public education event had to be cancelled due to the pandemic.  Several sinkholes were repaired on or near Grand Loop, Price Hills, Pinecrest Drive, Glen Level Drive, and Glen Creek Way.  In addition, required inspections were completed at Gwinnett Church, RaceTrac, Westbrook Village and Sugar Hill Overlook Townhomes.  One pipe inspection was completed at the new project known as, "The Bower", at the corner of Highway 20 and Hillcrest.  The city's stormwater reporting period closed out at the end of April with the annual report due to EPD by the 15th of June.
CONSTRUCTION UPDATES
E Center.   Red Clay Interactive, has a certificate of occupancy on their new space on the second floor in the E Center.    New floor finishes are being installed with demand being as light as it is for many of the common areas.  The fountains and pools of the E Center are operational.
Sidewalks Projects – Whitehead and Suwanee Dam Roads. This project is substantially complete and nearing final completion as the contractor finishes up a few minor punch list items.
Peachtree Industrial Greenway Project.  A notice to proceed has been issued and the general contractor has begun construction.  Traffic control measures as well as erosion control have been installed.
Whitehead Road Greenway Segment.  This portion of the greenway will be constructed near the Whitehead Road bridge and include a few short segments of sidewalk to tie-in the recently completed contract with the Chattahoochee Group.  Ohmshiv Construction will be building this scope along with that on Peachtree Industrial (PIB).  Work began at the beginning of May and will focus on this segment of work before they move back over to Peachtree Industrial Boulevard.
Sugar Hill Greenway.  The bid documents for the main portion of the greenway project are ready to bid and will be advertised this week.  We have a short modification in the county's park to adjust; but will proceed with the project's bid phase.
Veterans Memorial Relocation.  Surfaces Group is working on the last few punch list items before wrapping up final completion.  The grand opening and unveiling of the new sculpture associated with the facility will be during the Memorial Day ceremony .
Bowl Improvements.   The project concluded the month of April with a number of important installations.  The divider panels in the suites, the last pieces of artificial turf and handrail lighting systems were installed.  A few final modifications to the lighting system and divider panels remain, but the contractor expects to be complete in May.
Gary Pirkle Park Field Improvements.  This project has been advertised for bid, with a pre-bid meeting date of May 13th and bids due on May 28th.  The scope of work will include synthetic turf fields, new trail around the fields and relocated field lighting.
Art/History Room Buildout – Broadstone Project.  The final design is underway with construction documents expected in May.    This project is a part of the proposed 2020 budget and is expected to reach completion in late summer.
Level Creek/Alton Tucker Intersection Improvements and Road Extension.   The construction plans are substantially complete as the project moves into right-of-way acquisition.  The project will connect West Broad with Highway 20 on the east side of the E Center gym.  Right-of-way acquisition will most likely affect the construction schedule for this project.
OTHER IMPORTANT UPDATES
Updates on phased re-opening plan. City Hall and the E Center gymnasium will re-open to the public on May 18th with a phased approach and limits to certain services. Many offices will operate on an appointment only basis. Please watch the city's website and social media for details this week.
Updates from Advanced Disposal – Unrestricted bag and bulk item service resumed today. Due to the pandemic, operational changes on sanitation services were put in place for the health and safety of all involved. The number of green logo bags were limited as well as all bulk items. Advanced Disposal appreciates this special accommodation during this unprecedented time and resumed to normal service beginning today. Any questions about service may continue to be routed to the Advanced Disposal customer service office at 678-495-0058.
Advanced Disposal's City-Wide Annual Cleaning Week rescheduled to week of August 24th.  The Annual Spring Cleaning event, originally scheduled for the week of May 4th has been rescheduled to the week of August 24th. An updated flyer will be included in gas bills closer to the date and notification will be posted to the City of Sugar Hill website and social media.