P

LANNING AND DEVELOPMENT
Permits/Inspections. The last three building permits were issued in Carlton North this month, with an average size of 1,879 square feet. A development permit was issued for Hillcrest Landing, a townhome subdivision with 63 homes on Hillcrest Drive. A rezoning request (RZ-22-007) for 5422 Sugar Ridge Drive is scheduled for a public hearing at the November Planning Commission meeting. The applicant is requesting a change from RS-100 to BG zoning and has proposed two buildings for retail, restaurant, or office space. For more information, you may refer to the interactive development map or contact one of our planners in the office of Planning and Development.
Public Survey. We have received hundreds of responses to the parks, recreation, and greenspace user survey since its publication in September. The survey will close at the end of November. If you have not already submitted your entry, please go to the city's website, and send us your feedback. https://cityofsugarhill.com/parks-rec-survey-2/
New Team Members. The Planning and Development Department welcomed Claire Weatherly and Logan Witter to the team in October. Claire is a graduate of the University of Georgia School of Public and International Affairs with experience in the non-profit sector. Logan received his master's degree in City and Regional Planning from Clemson University and has experience in city and county planning and development services. Welcome to the team Claire and Logan!
PUBLIC SAFETY
Community Engagement. Marshals attended the Community Outreach Meeting at the Gwinnett District Attorney's Office and the Cop on the Corner event along with the Gwinnett County Police Department. At this event, Marshals and Officers met with members of the community to answer questions and provide crime prevention tips. They were also present during the Bret Michaels concert at The Bowl and the city's downtown Trick-or-Treat event.
Parking. Marshals continue to monitor and tag illegally parked vehicles. Parking regulation signs are posted in areas where parking is time-restricted.
Patrols & Other Business. The Marshals continue to patrol and respond to all calls in the residential areas, businesses, and schools within the city limits of Sugar Hill. The Chief, Deputy Chief, and all Marshals completed a blended first aid training course and obtained certification in adult and pediatric first aid, CPR, and AED use. Deputy Chief Smith attended Sport Venue Evacuation and Protective Actions training. Marshals directed traffic while Gwinnett County Police responded to a motor vehicle accident on Nelson Brogdon Boulevard.
PARKS AND RECREATION
Parks. Georgia Force High School Football continued with their last home game of the season. They will travel north for the second-round of playoff games in hopes of winning and making it to the national tournament in Florida. All-in Futbol Club and i9 Sports recreation leagues and academy tournaments continue weekly. The buildings at the park will receive a fresh coat of paint. The project will continue over the next several weeks until reaching completion. The 2022 spring garden season was a huge success. Gardeners are preparing plots for the winter.
E Center. Gym memberships now total 17,522. Public and private rentals continue to fill the Waterfall Rooms and classrooms. If you are interested in renting one of these spaces, contact an E Center representative and they can assist you with your reservation. Staff participated in the downtown Trick-or-Treat event on the 28th of October.
39th Street Station. The new space, called 39th Street Station is located at the lower parking level of the E Center and is the city's new meeting and event space. For information on reserving this new space for a meeting or event, contact an E Center representative today. The space now has tables and chairs and has already been used for a private event and as a greenroom for artists during a few of the concerts at The Bowl.
Golf.  The strong industry trends continued to hold true for our golf course during the month of October with unseasonably warm temperatures and pleasant weather. The replacement of the netting and safety barrier at the driving range is in the procurement phase with work beginning in December. The landscaping beds at the main front entrance and around the clubhouse were cleaned and trimmed. Those interested are encouraged to sign up for the 2-player alternate shot tournament planned for November 19th. For information on becoming a Sugar Hill Golf Association (SHGA) member or course information, contact our pro shop staff at the Golf Course by calling 770-271-0519.
Ice Rink. This unique outdoor, clear-span covered real-ice venue opened to the public on November 10th and a very busy season is expected. Advance tickets can be purchased by visiting the Have an Ice Day website.
COMMUNITY & ECONOMIC DEVELOPMENT
Events. In October, the city hosted several community-wide events including our 8th Annual Sugar Rush Arts Festival, and two (2) sold-out concerts – Bret Michaels at The Bowl and Lit and Hoobastank in The Eagle Theatre. We concluded the month with our annual Trick-or-Treat event on West Broad Street on October 28th with a showing of the Haunted Mansion at The Bowl.
This month, the Players Guild wrapped up their show, "Over the River and Through the Woods" in The Eagle Theatre. We also honored those who served at the Veterans Memorial on Sunday, November 13th. The event was originally scheduled to be held on Veterans Day but had to be postponed due to inclement weather.
John Berry will perform his 26th Annual Christmas Tour show on November 25th and the Broad St. Concert Band will perform their Toys for Tots Benefit Concert on November 29th in the theatre. Admittance to the Broad St. Concert Band event is free and guests are encouraged to bring a new, unwrapped toy.
Looking ahead, the Annual Holiday Celebration will take place on December 3rd with complimentary pictures with Santa and the Lonestar Christmas and Hits concert at The Eagle is scheduled for December 15th.
For tickets and information about upcoming shows and events please visit The Bowl and The Eagle websites.
PUBLIC WORKS AND UTILITIES
Gas Department.  Our staff has added 87 more transmitters during the month, bringing the total to 7,876 accounts that can be read automatically through our radio-based system.  The gas department staff also focused on other regulatory compliance and project support tasks during the month. For September, the utility locating technician completed services on 560 sites, up slightly from September's total.  The staff continues to coordinate with construction contractors on various sites around the city to protect our underground utilities. Staff has been working through regulatory compliance tasks, new service installations, and 98 other service requests to round out the workload last month.
Street & Stormwater Department.  During October, yard debris operations delivered 3 loads of mulch and had 121 truckloads of bagged clippings collected. This resulted in 13 loads of debris to the disposal site, up by two trips from September's totals. There were no open-top dumpster rentals this month.  Stormwater staff delivered one load of rock (drainage channel stabilization) and remained focused on inspections, regulatory compliance, and new public/private project coordination.
CONSTRUCTION UPDATES
Sugar Hill Greenway Trail.  The city's contractor, Tri Scapes, is quickly approaching the final stretch of construction.  Work on grading the shoulders and stabilizing the slopes on either side of the trail continues. The County has completed work on one short section of a new sewer line that conflicts with a section of trail boardwalk between Level Creek Road and Whitehead. TriScapes will need to reinstall the boardwalk for this segment and then the last section of trail for phase 1 will be open. The boardwalk railings are being installed now. When complete, the entire 4.7 miles of phase 1 will be ready to enjoy. Wayfaring signs are complete, and installation is substantially complete.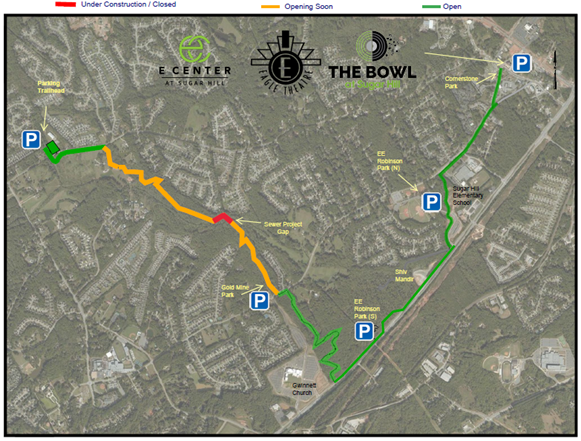 Many of the project's natural segments follow the old Georgia DOT right-of-way for the outer perimeter, taking visitors through many of the most scenic places in the city that could have been a six-lane highway through the area.
Gold Mine Park.  TriScapes, the city's general contractor, has completed construction on this passive park and trailhead and is finishing some other small punch list items. A team of city staff is working on a viewing platform to showcase the mine's entrance and provide access to what once was a key part of Sugar Hill's history.
Ridge Lake Park.  Reeves Young, the city's contractor for the first phase of construction is prepared to break ground on the project in late November with an eight-month construction schedule.
Park Restroom Building.  Design is being finalized for a restroom building to serve the new fields on the South side of Gary Pirkle Park. They will incorporate 7 unisex stalls and a water bottle filling station. We will advertise for a construction contractor in November with construction beginning in early 2023.
Bowl Pond Improvements.        Intended to make this amenity more stable and usable, these improvements include replacing the failed outlet that regulates pond water level and prevents flooding, a new pavilion area for events, congregating or just relaxing and a new parking area that will also serve as a load in area for concerts and performances.  The city's general contractor, Barnsley Construction Group, anticipates starting construction in November.
Alton Tucker Blvd Extension.  The survey work is complete, and design is well underway for an extension of Alton Tucker Boulevard with the addition of a proposed traffic signal and lane improvements on the Highway 20 intersection. This project will improve the intersection of Level Creek Road and West Broad Street, as well as extending Alton Tucker to Highway 20 at the east end of the E Center property. When design work is complete in early 2023, we will then advertise for a construction contractor.
Highway 20 Widening & HWY20 E Greenway Trail.         State DOT and their project management team has a final field plan review scheduled for November 15th for adding a lane in each direction from Buford Highway to Peachtree Industrial Boulevard.  This much needed capacity- adding improvement is on the schedule for construction in mid-2023 and will extend into 2024.  The project is widening to the center where it is feasible to reduce the right-of-way required for the project.  The City is partnering with Gwinnett County to construct a widened multi-use trail on the south side of the road as a part of the project.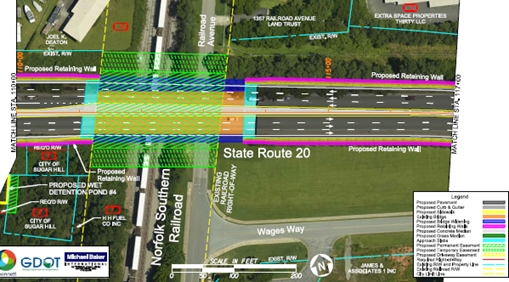 CUSTOMER SERVICE
In the month of October, 165 new gas service applications and 103 disconnects were processed. A total of 43 new meters were installed. There were 11,877 active meters billed in the month of October. A total of 11 new business licenses were issued. Passport totals reached 102 with 95 photos processed this past month.