Sugar Hill Greenway.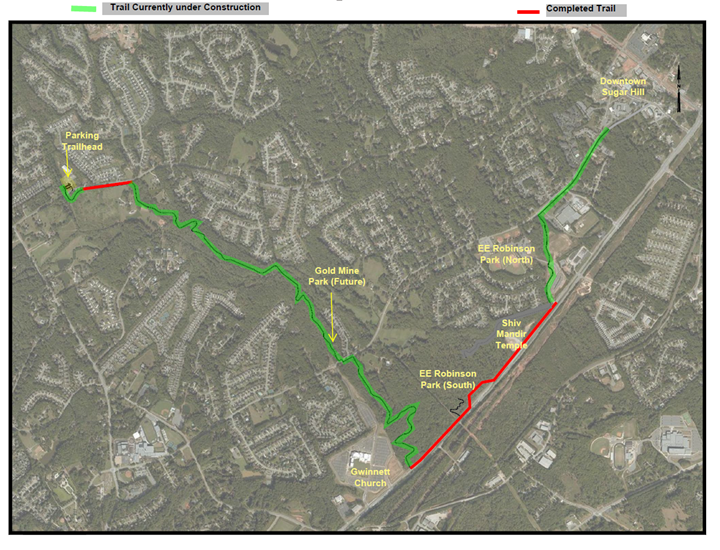 Sugar Hill Greenway Map
TriScapes Construction (TSI) is well underway with the major downtown segment of greenway trail construction connecting downtown with EE Robinson Park.  TSI has completed concrete paving on about 2,000 linear feet of new trail along Level Creek Road.  The TSI contract will encompass about 4 and a half miles of trail construction, beginning at the intersection of Level Creek Road and Church Street and extending both along roadways and through natural areas to Whitehead Road, temporarily ending at a trailhead parking lot at the Bethany UMC Church located at 144 Whitehead Road near the new bridge. TSI is now focused on surveying and layout for the off-road segments just north of the Gwinnett Church along with clearing and grading activities through the old EE Robinson Park (North).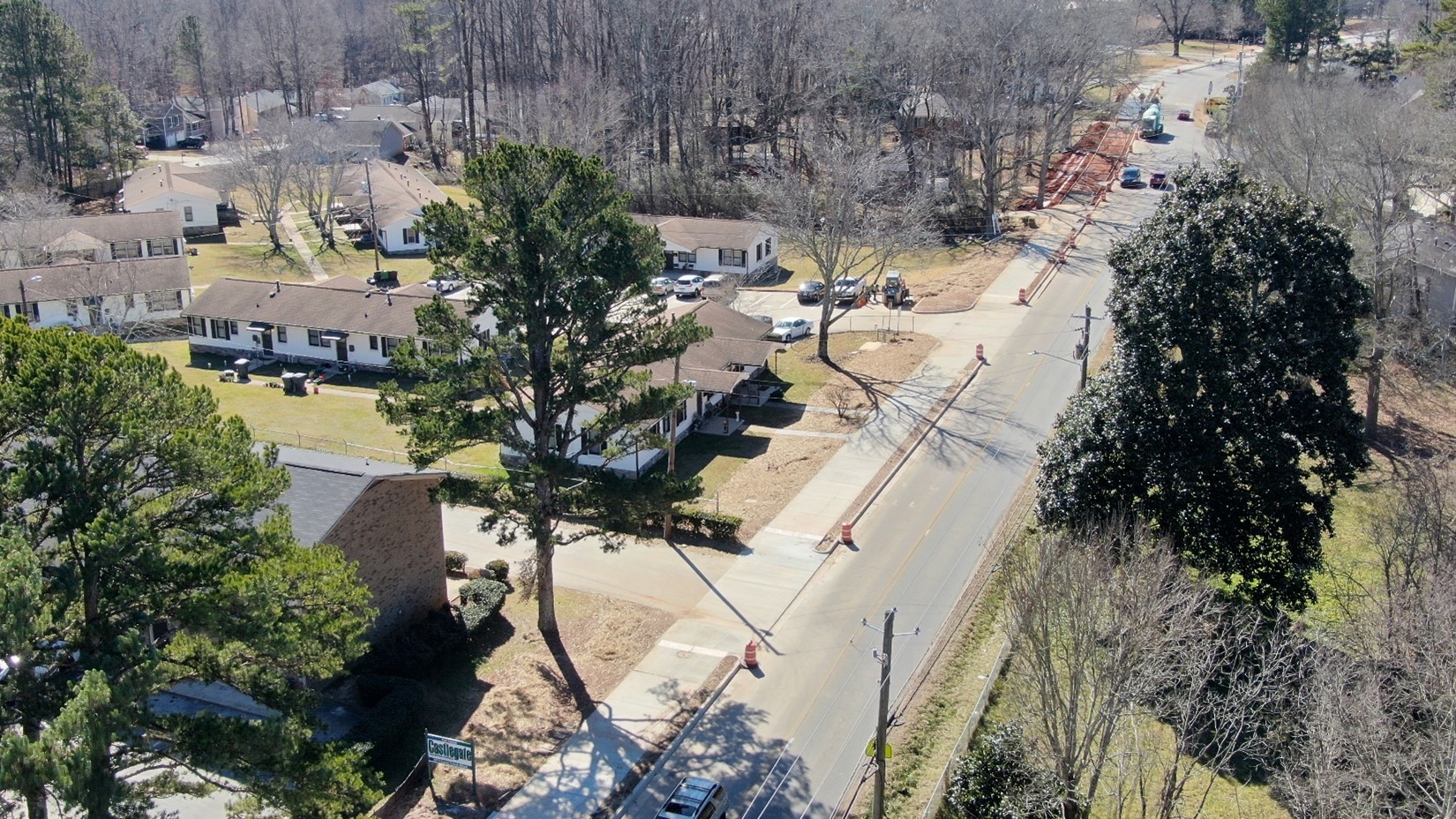 Gary Pirkle Park Field Expansion.  
Ready for turf.  Advanced Sports Group, the city's general contractor is very near substantial completion expected later in the first quarter of next year. The work and progress to date is being coordinated with the various user groups, leagues, and programs in the park.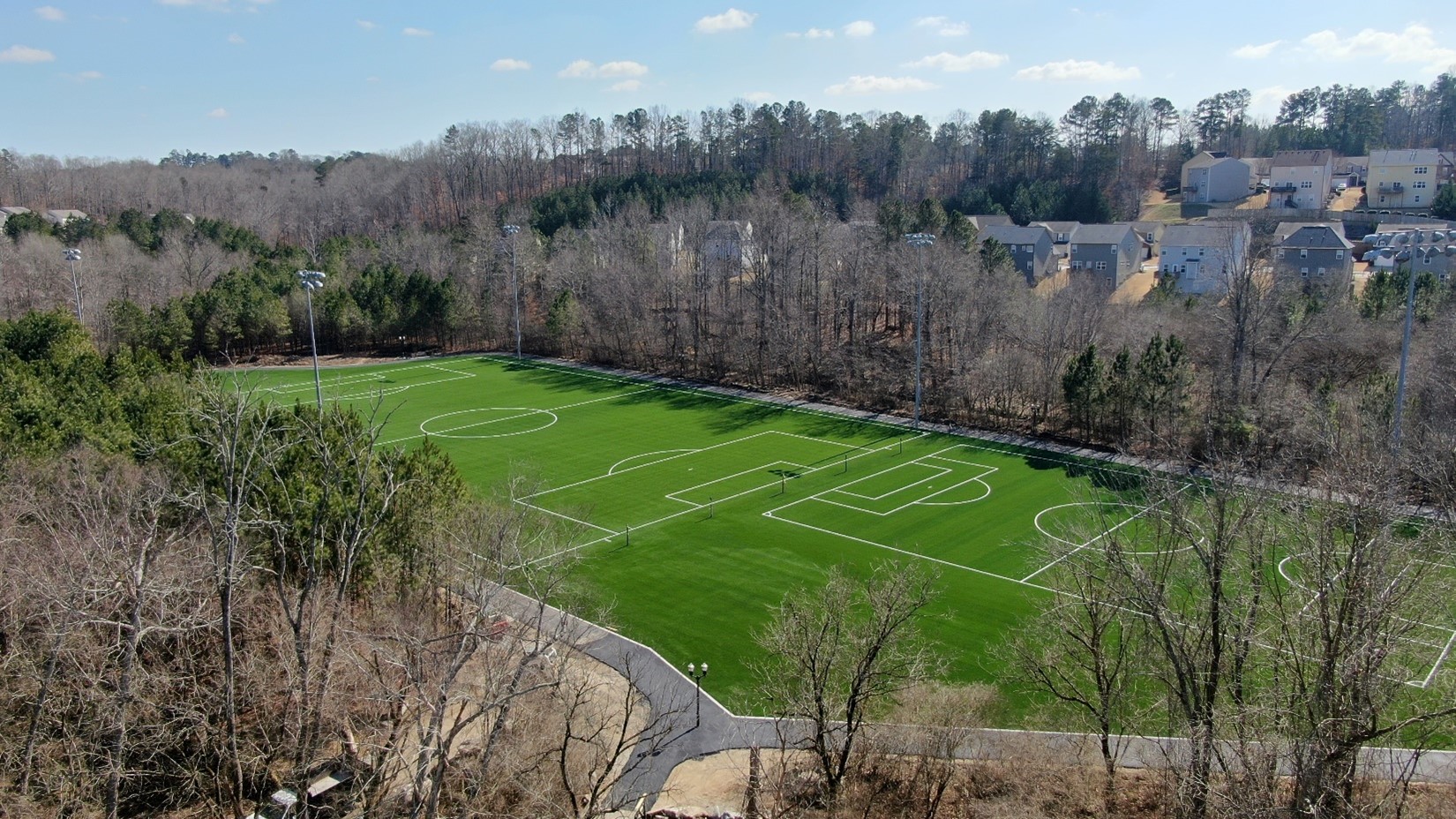 Gary Pirkle Park Field Expansion (Feb. 10, 2021)
 Art/History Room Buildout at Broadstone.  The contractor is at final completion and staff is set to move-in.  Look for hours and opening date soon!
22 Acre Park – Highway 20.  Architectural design work is continuing on the restroom and pavilion building to establish a style consistent with historic uses on the property.  In addition, the lower pond is being drained and further evaluation of its condition is needed to determine a scope for repairs or improvements associated with this phase of the project.  The following images capture the styles being considered.


LMIG – Roadway Repairs & Resurfacing.  This contracting opportunity for repairs to 21 roads in Sugar Hill is currently out for bids.  Bids are due 2/18/2021.  The following roads are slated for inclusion in the proposed contract:
Princeton Oaks Drive
Megan Court
Hunters Oak Trail
Bankside Court
Amberside Court
Amberside Lane
Riverside Walk Drive
River Ridge Lane
Appling Road
Frontier Drive
Forest Green Way
White Oak Drive
Frontier Way
Frontier Trail
Davis Street
Mountain Ridge Way
Spring Willow Drive
Grandloop Road
Eagles Rest Trail
Summer Breeze Lane
Long Needle Court