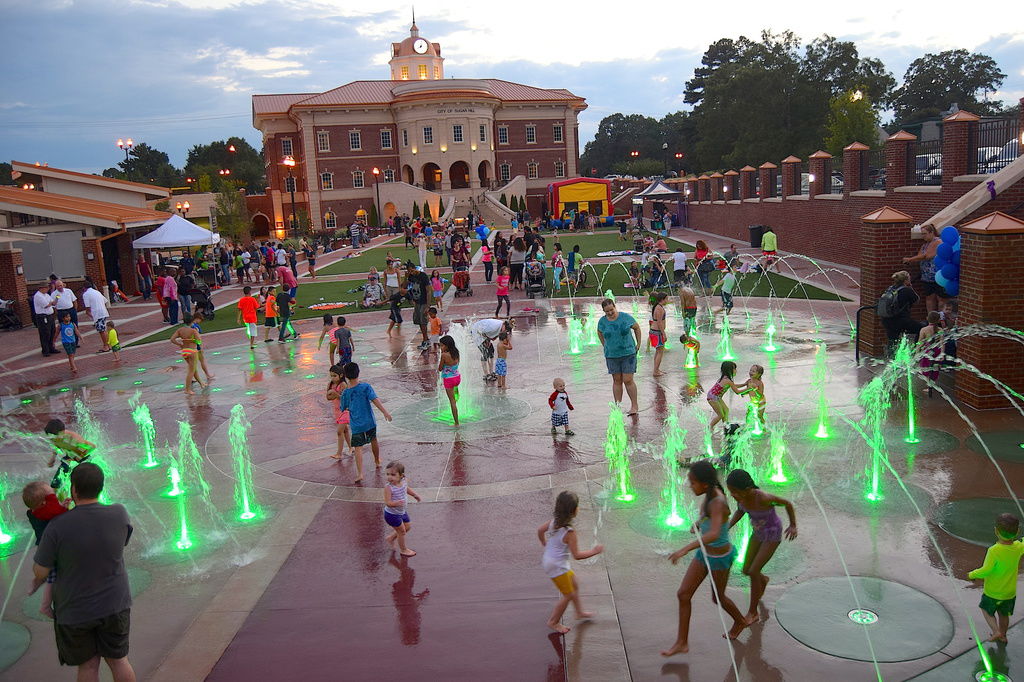 Welcome to the Splash Park at Sugar Hill!
Typical hours are as follows:
May – October: 10 a.m.- 9 p.m.
The Park is open to the public and is wheelchair accessible.
Picnic tables are available for rent; if you are interested, please call the E Center.
The Splash Park will be closed from Monday, June 12 through Friday, June 16 due to repairs. We appreciate your patience and understanding.
The Splash Park is subject to closing due to maintenance or inclement weather, which includes rain. Please check the city's social media for all updates on Splash Park closings due to maintenance, weather, or scheduled concerts at The Bowl.
Hours of operation may vary.
Please check this page or the city's social media for any closings.
For everyone's safety, the fountain area is under camera surveillance.
Responsible fun and frolicking is to be expected, but please remember to play safely!
Email us for any other questions.
mphillips@cityofsugarhill.com
Rules
Please enjoy the fountain at your own risk
NO LIFEGUARD ON DUTY
Toddlers must wear swim diapers
No pets are allowed in the fountain area
Toddlers and small children are not allowed in main center water jet
Never leave children unattended
No running or rough play
No jumping from walls or stairs
No foul/abusive language or bullying
No food, drink, bottles, or wrappers shall be permitted in the immediate area of swimming or on the decks surrounding the fountain.
No tobacco may be brought into the fountain area
No water balloons, water guns, or other toys allowed
No skates, skateboards, scooters, or bicycles allowed
No bathing, soap, detergent, or shampoo allowed
No glass objects of any kind in the fountain area
Persons having an infectious or communicable disease, which can be transmitted by water, shall be excluded from public fountains
Spitting, spouting of water, blowing the nose, etc. in the fountain shall be strictly prohibited
Appropriate clothing or swimwear is required
Footwear is strongly recommended
Please do not drink the water
Respect others
Maximum bathing load: 283 people
The City of Sugar Hill shall not be held responsible for any injuries resulting from the use of the fountain.

In case of emergency, please call 911.
Please use emergency phone located at VIP Suites.
First Aid Kit is available at City Hall.

In case of a thunderstorm, lightning, or severe weather or any kind, please vacate the fountain area immediately and seek shelter.
The City of Sugar Hill, in its sole discretion, reserves the right to remove, restrict, or ban anyone from the fountain area for violation of any of these rules.
2021 Public Swimming Pool Inspection Report
For more information regarding the report, visit www.gnrhealth.com
Gallery
FAQ
[knowledgebase category="210″]