Grab your four-legged friends, your best running shoes, and LEGS go out to the greenway! The first leg of the Sugar Hill Greenway is open and ready for feet to hit the ground running! 4.5 out of the planned 16.5-mile trail is now complete and will connect downtown to neighborhoods, schools, and parks.
Within the Sugar Hill Greenway is a trail, with a paved path intended for shared use by pedestrians, bicyclists, wheelchair users, joggers, and other non-motorized users.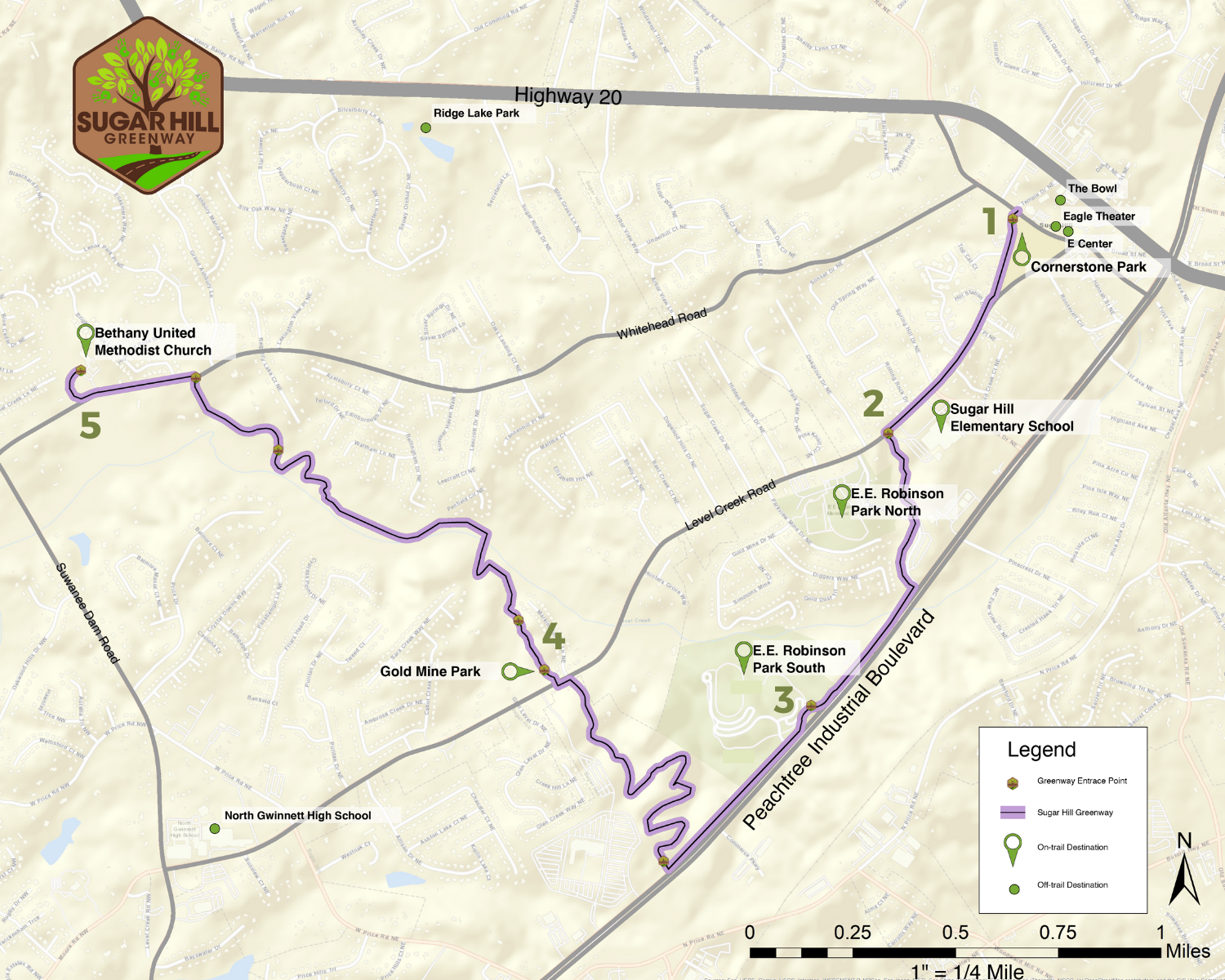 Greenway Entrance Points:
CORNERSTONE PARK: At the corner of West Broad St. and Church St., this downtown park is the start of the Greenway. Begin your walk at mile zero and head down Church St. to Level Creek Rd. to enjoy the trail.

E. ROBINSON PARK, NORTH: Enter the woods just beyond Sugar Hill Elementary School. The path leads through the park to Peachtree Industrial Blvd (PIB). Parking is available in the lower lot closest to PIB.

E. ROBINSON PARK, SOUTH: As you continue south on PIB, you will enter the park where there is parking, a splash pad, park trails, and other amenities.

PIB ENTRANCE AT GWINNETT CHURCH: Continue south along PIB out of E. E. Robinson Park, South until you near Gwinnett Church then follow the trail that heads into the woods up the hill. This section features a paved trail that travels through dense trees and greenery to Level Creek Rd.

GOLD MINE PARK: (Opening Summer 2022) Cross Level Creek Rd. and enter Gold Mine Park where you will find parking and restrooms. Enjoy an overlook of Simmons Mine, an inactive mine from the 1800s through the early 1900s. You can either take the sidewalk on Level Creek Rd. back to Cornerstone Park or continue through the woods to Whitehead Rd. This densely forested section of the trail crosses Level Creek where you will travel over several boardwalks and bridges. Turn right and use the sidewalks to return to Downtown Sugar Hill or continue south to Bethany Church.

BETHANY CHURCH TRAIL HEAD (Opening Summer 2022): As you head south, walking along Whitehead Rd., the trail goes down the hill, through a swampy wetland, and follows a creek under the road to a parking area in front of Bethany Church. This ends phase 1 of the Greenway.