PLANNING AND DEVELOPMENT
Permits/Inspections. A commercial remodel permit was issued for a new location for Jersey Mike's, which will be in the Sugar Hill Corners shopping complex. La Vida Massage, also located in this complex, received their certificate of occupancy. Permit updates are provided graphically below: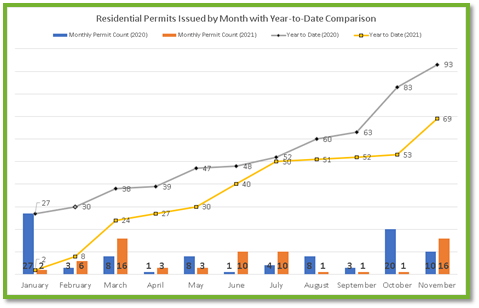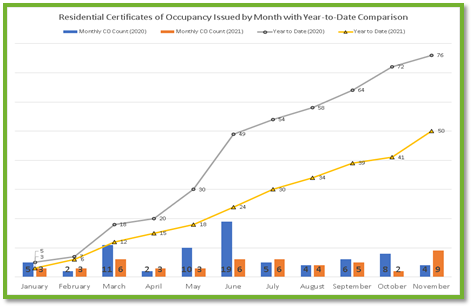 Permits were issued for the Holbrook monument sign.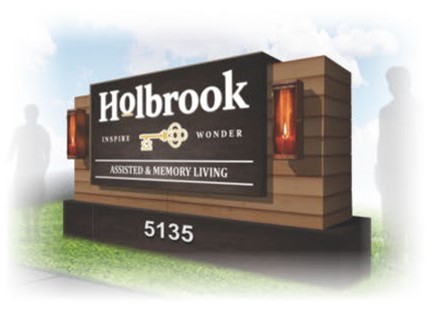 A request was submitted to rezone 3.9 acres at 1250 Hickory Hills Drive from mobile home (MH) to medium density mixed residential (R36) for a 12-home cottage court development. The number for this project is RZ-21-009 and is scheduled for a public hearing at the December Planning Commission Meeting. Four single family home permits were issued this month, averaging 2,875 square feet. Thirteen townhome permits were issued with an average of 2,461 square feet.
Landscaping was completed with funds from the Roadside Enhancement and Beautification Council (REBC) Grant at the Southwest corner of West Broad and Highway 20.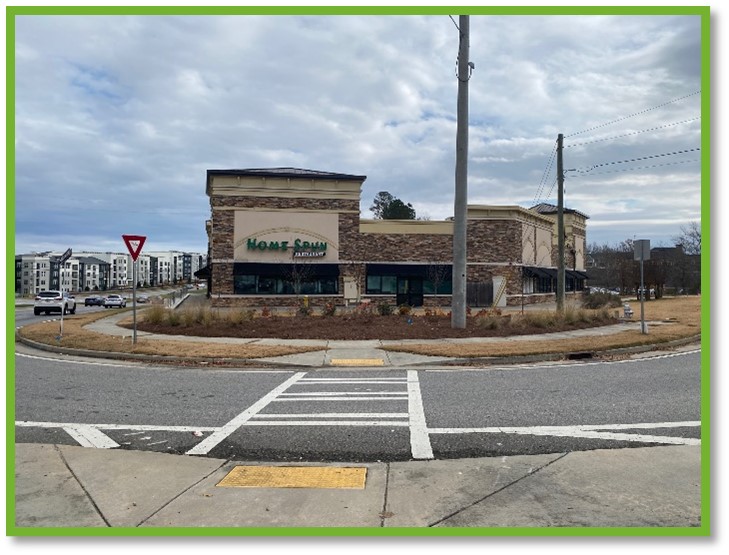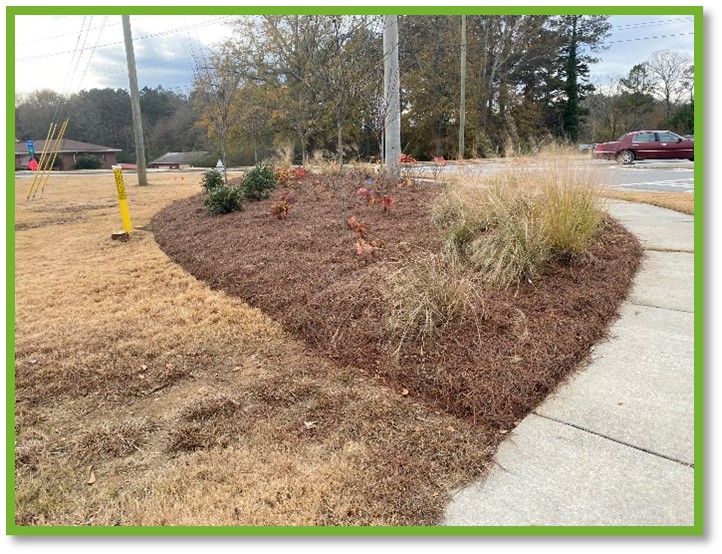 PARKS AND RECREATION
Parks.  Weekly maintenance was completed throughout all park facilities for the month. At Gary Pirkle Park, All-In Futbol Club (AIFC) and i9 Sports recreation leagues completed their Fall season with a record number of participants. GA Force Football completed their regular season and will now compete in the playoffs. A winter clean-up event was held at the Community Garden and was a success capping off one of the busiest garden seasons to date.
Downtown and City Hall. Installation of holiday decorations were completed giving the entire downtown area a magical glow. New displays were added to the east end of the E Center Gym and in the cornerstone park area.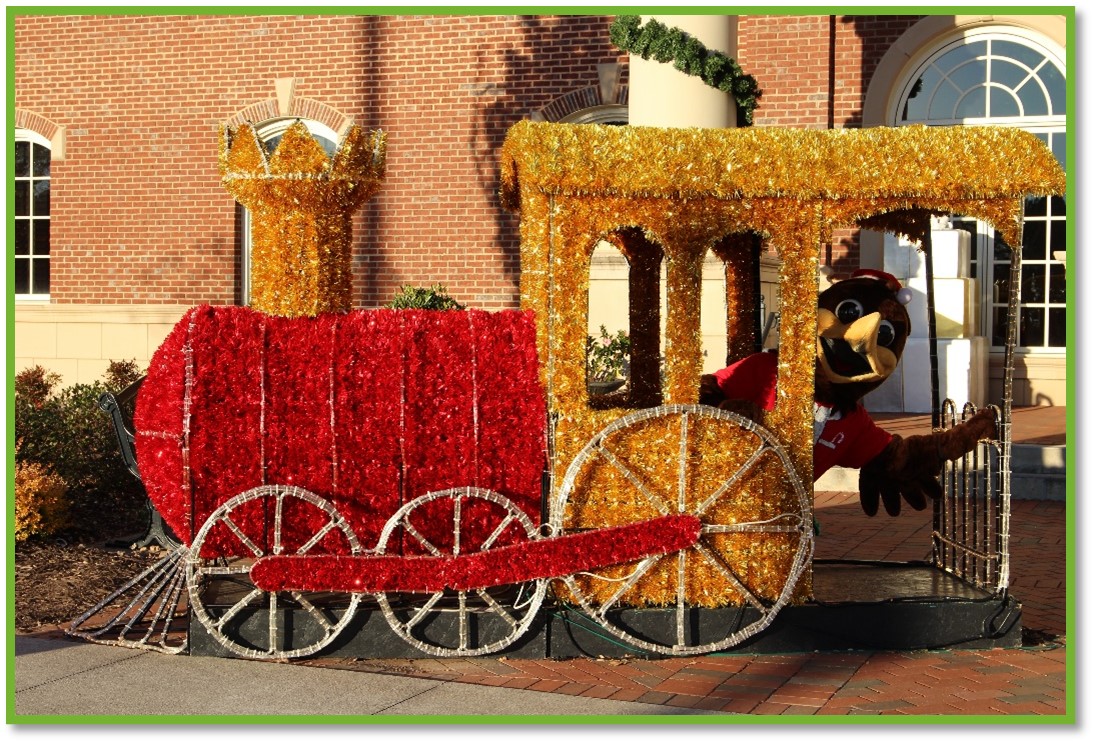 Ice Rink. The ice-skating venue has been extremely popular with large crowds filling the facility on nights and weekends.
E Center. Gym memberships have now surpassed 15,000 (30% are non-residents). Thorough cleaning practices continue throughout the facility. The Waterfall Room and classrooms have been booked with many community meetings, events, and private parties throughout the month.
Golf.  November was another strong month with great weather and many guests at the course. Winter maintenance including landscaping, leaf removal and tree trimming was completed, and the greens were painted adding color to the course during the dormant winter. Several tournaments were held to include the Santa Charity Tournament bringing in many gifts and donations which were passed along to the North Gwinnett Co-Op. For more information on becoming a Sugar Hill Golf Association (SHGA) member or course information, contact our pro shop staff at the Golf Course by calling 770-271-0519.
COMMUNITY & ECONOMIC DEVELOPMENT
The Players Guild held their most successful show to date, The Trial of Ebenezer Scrooge, at the end of November. Approximately 2,000 people visited The Eagle over their run of shows. The Annual Holiday Celebration took place on Saturday, December 4th in Downtown Sugar Hill. We were pleased to welcome thousands of guests that visited the Ice Rink, The Bowl, The Eagle Theatre, and the Promenade for various activities including free photos with Santa.
The remainder of December will bring various private rentals in The Eagle, a Christmas Eve service in The Bowl hosted by a local church, and a series of $2 movies in The Eagle including The Grinch (12/20), Frozen (12/21), Christmas Vacation (12/22), and The Polar Express (12/23).
Rushing Trading will be closed through the holidays so staff can spend time with family and friends. Knuckies is now closed while the tenant completes renovations for the new Shine Pizza, expected to open in early 2022. Please be sure to check each store and restaurants' website for the most current operating hours during the holiday season.
PUBLIC WORKS AND UTILITIES
Gas Department.  We have installed 6,220 transmitters in our AMR system to date. Our utility locating staff completed services on 504 sites and worked with our construction contractors on various sites around the city to protect our underground utilities. Staff has been working through regulatory compliance tasks, new service installations, and 129 other service requests to round out the workload last month.
Street & Stormwater Department.  Yard debris operations delivered 5 loads of mulch and had 130 truckloads of bagged clippings collected. This resulted in 27 loads of debris to the disposal site. We had two (2) open-top dumpster rentals, down from four in October. The stormwater department responded to three (3) requests for rock to assist with private landowner stormwater stabilization, equaling October's activities.
CONSTRUCTION UPDATES
Sugar Hill (Main) Greenway Trail.  Weather and suppliers inventory issues are grinding a number of activities associated with the greenway to a crawl for November. TriScapes Construction (TSI), the city's general contractor has substantially completed the trail segment from downtown through EE Robinson Park (North) down to Gwinnett Church along Peachtree Industrial Boulevard. These important segments are open, while a few lingering supplies trickle in to allow for final completion. Some temporary traffic controls may remain in these areas. TSI is now focusing on two important bridge and boardwalk sections in the natural areas between Level Creek and Whitehead across the former GDOT right-of-way. The section from Level Creek to PIB has been cleared with much of the grading completed and now awaits confirmation of compaction and gravel base installation.
Roadway Resurfacing and Repairs 2020/2021.  Construction is now complete with only a few manholes and valve locations to adjust. The city was able to repair and resurface the following streets this year:
[columns] [column size="1/3″] Princeton Oaks Drive
Megan Court

Hunters Oak Trail

Bankside Court

Amberside Court

Amberside Lane

Riverside Walk Drive

River Ridge Lane

Appling Road
[/column] [column size="1/3″]
Mountain Ridge Way

Spring Willow Drive

Grand Loop Road

Eagles Rest Trail

Summer Breeze Lane

Long Needle Court

Laurel Green Lane

Sagamore Cove

Canyon Drive
[/column] [column size="1/3″]
Deer Crossing Drive

Frontier Drive

Forest Green Way

White Oak Drive

Frontier Way

Frontier Trail

Davis Street
[/column] [/columns]
Gold Mine Park.  TriScapes has completed most of the grading activity for the driveway and parking areas. These areas are still subject to impacts from greenway construction and will remain disturbed until the heavy equipment works its way out of bridge and boardwalk installation. The project's pre-engineered restroom building is in the final stages of county approval and will be connected to the sewer main on Level Creek Road. The proposed park, which includes vehicle and bicycle parking, a restroom building and mine entrance overlook, serves as a trailhead on the city's greenway and offers a chance for guests to learn more about the city's gold mining history.
City Hall Parking Deck Resurfacing.  The work on the parking deck is substantially complete, but more importantly allowed the deck to reopen during this busy holiday season. The surface installed provides protection to the reinforced concrete deck and has a ten-year product warranty.