PLANNING AND DEVELOPMENT
Permits/Inspections. Scoops was issued a certificate of occupancy in September, and they plan to announce their grand opening soon. A special use permit application was received for La Vida Massage, where Massage Envy was formerly located in the Publix shopping center at 5885 Cumming Highway. The Planning Commission will conduct a public hearing at their October meeting and this case is scheduled to appear before the City Council in November. A design review and stream buffer variance application was also received in September and will appear before the City Council in November. This application is for a mixed-use development proposed at the southwest corner of Bailey Avenue and Highway 20.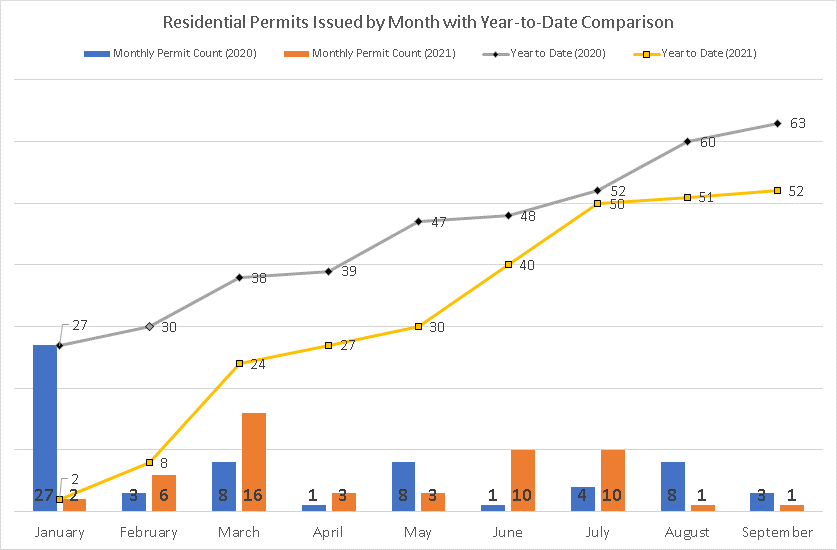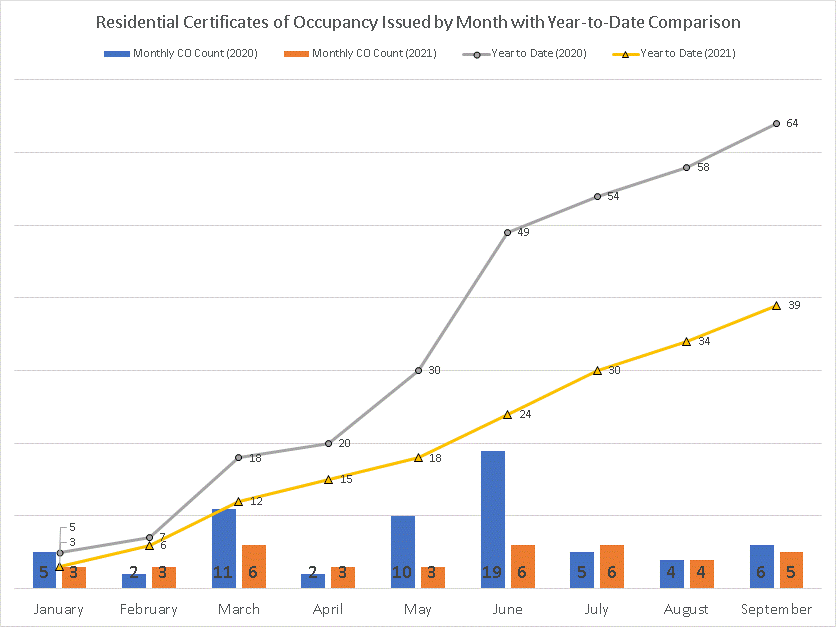 PARKS AND RECREATION
Parks.  Weekly maintenance occurred throughout all park facilities to include trimming and chipping of tree and limb debris, characteristic for this time of year. At Gary Pirkle Park, All-In Futbol Club (AIFC) and i9 Sports recreation leagues began a new season. The GA Force football team continued a successful run in September. Their season will continue through November. New benches and trash receptacles were delivered and installed around Gary Pirkle Park. Volunteers gathered to hold a Community Garden work party in an effort to clean and freshen up around the grounds.
Downtown and City Hall. Weekly cleaning and maintenance were performed throughout the downtown area and on the grounds of City Hall. The water features were cleaned with a few minor electrical items repaired.
Splash Park. The park closed on October 1st wrapping up a very successful season. Maintenance work will be performed and completed prior to the beginning of the 2022 season.
E Center. Gym memberships have reached 14,589.  Thorough cleaning practices continue throughout the facility.  Private rentals in both the Waterfall Room and the classrooms continue to increase.
Golf.  September was another successful month at the course. Sidewalks, porches, the gazebo and the grill area were all pressure washed and cleaned. The landscaping was cleaned and freshened from the main entrance to the grounds around the clubhouse. Several unused fairway bunkers were filled and grassed as course improvements continue. The carpets throughout the clubhouse were cleaned and sanitized. Several tournaments and events are scheduled at the course this month. For more information, on becoming a Sugar Hill Golf Association (SHGA) member or course information, contact one of the staff members at the Golf Course by calling 770-271-0519.
COMMUNITY & ECONOMIC DEVELOPMENT
We have a few new members on our team. We welcome Cam Coan, our new Events Coordinator, McKay Culberson, our new Downtown Coordinator, and Alexis Torres, our new Venue Assistant.
Upcoming Events:
10/12: $2 Tuesday movie in The Eagle – Midsommer
10/13: Free Lanier High School Homecoming Parade in Downtown Sugar Hill
10/16-17: Free Sugar Rush Artfully Festive in Downtown Sugar Hill
10/16: Sugar Rush: Performances of Sleepy Hollow in The Eagle Theatre
10/16: Free Sugar Rush Concert in The Bowl: David Nail with opener Karissa Ella
10/20: Free Sugar Hill Live on the Promenade
10/22: Pat Benatar & Neil Giraldo in The Bowl
10/28: Swingin' Medallions in The Eagle Theatre
10/29: Free Trick or Treat on West Broad Street
10/29: Free movie in The Bowl: Hocus Pocus
PUBLIC WORKS AND UTILITIES
Gas Department.  We are at the 60 % mark for our installation of AMR system with staff devoted to responding to another series of construction-related demands.  Our utility locating staff completed services on 475 sites and worked with our construction contractors on various sites around the city to protect our underground utilities. Staff has been working through regulatory compliance tasks, new service installations, and 62 other service requests to round out the workload last month.
Street & Stormwater Department.  Yard debris operations delivered 4 loads of mulch and had 109 truckloads of bagged clippings collected.  This resulted in fifteen (15) loads of debris to the disposal site.  We had four (4) open-top dumpster rentals, down slightly from the month prior.  The stormwater department responded to four (4) requests for rock to assist with private landowner stormwater stabilization.
CONSTRUCTION UPDATES
Sugar Hill (Main) Greenway Trail.  TriScapes Construction (TSI) is now complete with the trail segment from downtown through EE Robinson Park (North) and is very close to being able to open this section.  Drainage pipe installation, pavement repairs, and handrailing were completed in September.  The connection from the downtown to Peachtree Industrial Boulevard is a key segment that will allow access via this trail system downtown with two key parks on Peachtree Industrial.  TSI is working to complete the second of two bridges and boardwalk sections in the natural areas between Level Creek and Whitehead across the former GDOT right-of-way. The section from Level Creek to PIB has been cleared with much of the grading completed.
Roadway Resurfacing & Repairs 2020/2021.  Construction is at the 80-percent point with all but the Frontier Forest subdivision roads complete.  Gwinnett County Water Department has finished their project in the Frontier Forest neighborhood and will be releasing the six streets on our list for resurfacing starting this month.
[columns] [column size="1/3″]Princeton Oaks Drive
Megan Court
Hunters Oak Trail
Bankside Court
Amberside Court
Amberside Lane
Riverside Walk Drive
River Ridge Lane
Appling Road[/column] [column size="1/3″]Princeton Oaks Drive
Megan Court
Hunters Oak Trail
Bankside Court
Amberside Court
Amberside Lane
Riverside Walk Drive
River Ridge Lane
Appling Road[/column] [column size="1/3″]Princeton Oaks Drive
Megan Court
Hunters Oak Trail
Bankside Court
Amberside Court
Amberside Lane
Riverside Walk Drive
River Ridge Lane
Appling Road[/column] [/columns]
Gold Mine Park.  TriScapes was selected as the city's contractor for this new project and has begun with initial erosion control installation and clearing activities.  The proposed park, which includes 50 parking spaces, a restroom building and mine entrance overlook, serves as a trailhead on the city's greenway and offers a chance for guests to learn more about the city's gold mining history. Clearing is complete and drainage and detention work has begun.
City Hall Parking Deck Resurfacing.  The pre-construction meeting for this project will be held tomorrow at city hall with construction starting the week of the 25th.